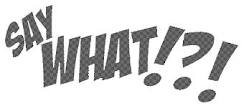 Old Man Beats Up Robber– An 83-year-old man in Upper Merion beat a robber up in his own home. One of the robbers came to his door and pointed a gun in his face while another came in thru his back door garage and robbed the house. Grandpa gave the robber a flight and 1 of the robbers were so scared he said "let's get out of here." Suspects got away In a black Toyota, with tints, chrome wheels and no license plate.
Retired Priest Mike Tyson's Another Priest – Two 80-year-old retired priests were fighting over a parking space. 1 priest was so pissed he bit the other priests ear off!
Restaurant Worker Tries To Fork Co-Worker – In NJ, a Westampton man is facing assault and weapons charges. Apparently, he worked with the person he assaulted at a restaurant. The assaultee approached him about his pay. Then the crazy got mad, knocked him down and threatened to kill the man with a fork.
Mother Upset She Couldn't Harvest Dead Sons Sperm – This mom is pissed! Her son was critically injured after being in a car accident and wanted to take his sperm so she can harvest it and have grand kids. She was denied the opportunity.  Her son died and she said she's sad she won't have a piece of him and that the last name won't live on.
Man Tats Mitt Romney's logo on his face. Click below for more to see
#SayWhat News (weird, outrageous, surprising and crazy news) goes down around 7:55a and 8:55a everyday with @MinaSayWhat on @Power99Philly.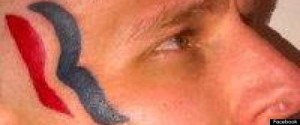 LEAVE A COMMENT
comments