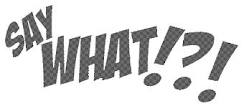 Conspiracy To Cover Up Sandusky's Crimes– 2 ex-university administrators and the former Pennsylvania State University President were charged yesterday with conspiracy, obstruction of justice, perjury, endangering the welfare of a child and failure to report abuse. Each could face 28 years in prison.
Will Jersey Be Ready To Vote – Since Hurricane Sandy almost crushed everything along the Jersey Shore and the cities by the water throughout NJ and NY, people are worried about this Tuesdays Presidential Election. Some polling places are gone, shut down, or without power. They will have to relocate lots of polling places, but once they do how will they tell people. Internet is done, phones aren't working, some houses are flooded, people are trapped, people lost their homes and are dislocated. They plan on extending mail in ballot deadline.
Cop Tasers 10 Year Old – During a visit for Career Day, a cop in New Mexico asked a group of boys to clean his police car. One of the boys said no and the cop pointed the taser at him and said "Let me show you what happens to people who do not listen to the police." He tased the boy in the chest with 50,000 volts.  The officer says he discharged the weapon accidentally and he received a three-day suspension.
In Florida News – A mom is suing because her 3 year old sucked on a condom found on the daycare playground.  The condom tested positive for gonorrhea. The girl has been tested for STD's every four months since the December 2011 incident, and so far the results are negative.
#SayWhat News (weird, outrageous, surprising and crazy news) goes down around 7:55a and 8:55a everyday with @MinaSayWhat on @Power99Philly.
LEAVE A COMMENT
comments