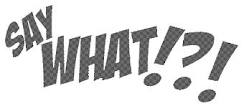 Woman Charged With Having Sex With Dead People– A woman in Sweden is facing up to two years in prison after she was caught pleasing herself with skeletons. She was officially charged with "violating the peace of the dead". Police arrived at the woman's house after neighbors reported hearing gun shots. After entering, officers found over 100 skeleton parts that had evidence of sexual use on them. The woman has denied the charges saying that she collected the bones out of historical interest.
New Evidence In the Casey Anthony Case– New evidence that may have lead to Casey Anthony's conviction has turned up. Detectives have admitted to missing a Google search on Casey's computer for suffocation instructions the day is it believed that her daughter Caylee died. Right after the suffocation search the user searched ways to commit suicide. It is said that the searches were missed because detectives focused on Internet Explorer records and not Firefox. The Orange County Sherrif's office has said it was an "oversight" and "learning experience"
Gangnam Style Breaks Record-  Korean rapper, Psy, has surpassed Justin Beiber's record for having the most watched youtube video. Gangam style has gotten over 816 million views passing Beiber's "Baby". Psy's video has been up for four months while 'Baby' has been on youtube for over two years. The two artists both have the same manager. Check the video HERE.
Elmo Resigned- Kevin Clash has officially resigned from Seasame street after another man has come forward accusing him of having sexual relations with him as a teenager. Clash made a statment saying, "I am resigning from Sesame Workshop with a very heavy heart. I have loved every day of my 28 years working for this exceptional organization. Personal matters have diverted attention away from the important work Sesame Street is doing and I cannot allow it to go on any longer."
Cyber Monday- Experts expect Cyber Monday sales to rise by as much as 12% this year. Amazon is leading the pack with the highest number of searches.
Woman Killed By Public Works Truck- In NJ, a public works truck cleaning up after Hurricane Sandy backed into a 69-year-old woman yesterday and she was pronounced dead at the scene. The cause of the accident is still under investigation and no charges have been filed as of yet.
Philly School Officials Get Raise- We all know the Philly school district has been in some hot water lately. Last summer union workers were asked to give up their raises so that schools would not close. And two weeks ago, district officials borrowed another $300 million from Wall Street to pay its bills.  Now, word has leaked that 25 nonunion employees have received salary increases since the summer.  The increases totalled over $311,000.
#SayWhat News (weird, outrageous, surprising and crazy news) goes down around 7:55a and 8:55a everyday with @MinaSayWhat on @Power99Philly.

LEAVE A COMMENT
comments