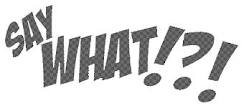 People Preparing For Doomsday- The end of the Mayan calendar is causing people to make extra preparations for their final days on earth. People in Russia are stocking up on matches and candles. Others are buying salt, food, water and internet searches for "ways to survive emergency situations" have gone through the roof!
Gun Discount For Teachers- In the wake of the Sandy Hook Elementary Massacre, a gun store owner in Texas is offering teachers a 10% discount. The owner said, "We need to start thinking out of the box and deal with this violent culture…We need to lobby our various state governments to allow teachers to be armed." In Texas individual districts are allowed to decide if teachers can carry guns.
Woman Attacked With Poop Sock- A 21 year old college student in Chicago had a really 'poopy day' (pun intended). An unidentified man was slinging a sock full of his poop around a train car last week- splattering innocent victims in the hair, face and clothes. Investigators have photos of the assailant and are trying to identify him.
Read more #SayWhat News by clicking below for more.
10 Charged In Check Fraud Scheme- 10 Philadelphia residents have been charged in a check fraud scheme worth $40,000. The suspects are accused of copying checking account details from four businesses and then wrote checks, deposited them into new bank accounts and withdrew the stolen money from ATMS. All of the suspects are facing felony charges with up to 10 years in prison and $15,000 fines.
8 Charged In Child Porn- 8 men in Berks County Pennsylvania have been charged in a county-wide child porn sting. A four month operation found evidence that the men either possessed or distributed child porn. The victims ranged in age from 1 to 5 years old and if the men are convicted they could be facing 7 years in prison, pay huge fines and will have to register as sex offenders.
Lanza's Mom Wanted To Have Him Committed-  The motive for Adam Lanza going into Sandy Hook Elementary School is still not completely understood but investigators think they may have a better understanding of what triggered the 20 year old. A source close to the family says that Adam's mother Nancy planned to have him committed to a mental institution and that Adam was very angry about it. There have been reports that Lanza's mother was a volunteer at Sandy Hook and worked with the kindergartners. Local residents say that Adam felt like his mother loved the school more than him.
Obama Backs Push For New Gun Laws- Obama agrees with the concern of many these days about how accessible guns are to the public. He said that people should be subjected to background checks before being allowed to purchase guns and that he is in full support of re-evaluating mental health and gun laws. Obama is definitely serious he said, "This time words must lead to action."
Philly Teen Gets Perfect Score On SAT- 18 year old Cameron Clarke from Germantown Academy in Fort Washington PA earned a 2400- perfect score- on his SATs. He says that he took a prep class and did a lot of practice tests but that they most important factor in getting a good score is focus!
#SayWhat News (weird, outrageous, surprising and crazy news) goes down at 6:55a, 7:55a and 8:55a everyday with @MinaSaywhat and @Power99Philly
LEAVE A COMMENT
comments