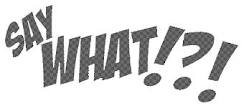 End of The World Wrap Up – NASA Is saying the world is not ending, but that's not stopping from believe it. They have been swamped with phone calls and emails even though NASA has said months ago that this is a hoax. They said just because the Mayan calendar ends today doesn't mean we are suppose to die.
Man Says He Don't Care About CT Shooting – In Texas a guy is pissing people off because she say he doesn't care about the 2 kids that were gunned down by the 20-year-old crazy. He posted on facebook, "I don't care if a bunch of white kids got killed. When kids from minority groups get shot nobody cares."
McDonald's Brawl Details Reveled – Man In York County PA spazzed at a Mikey D's because he got a cheeseburger instead of hamburger. Details have been revealed and he says they got his order wrong twice. They gave him a refund, but he was still pissed. On his way out he knocked down a trash can and then threw a high chair across the room. The manager followed him to his car to get his license plate number and the crazy put the manager is a headlock and broke his leg.
Read more #SayWhat News by clicking below for more.
Online Gambling – NJ Senators have finally approved a bill that would allow gamblers to bet on casino games in Atlantic City over the Internet.
Bomb Threat Closes Schools – Council Rock High School South and Emmaus (Em-May-Us) High School have both had separate bombs threats. In Council Rock a student is in custody and they found guns at his house. For Emmaus how they received the threat is unknown, but the students received an an automated message bout the incident and police are still investigating.
#SayWhat News (weird, outrageous, surprising and crazy news) goes down at 6:55a, 7:55a and 8:55a everyday with @MinaSaywhat and @Power99Philly
LEAVE A COMMENT
comments