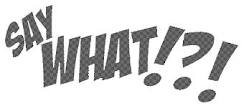 Jovan Belcher Updates – The football player that killed his girlfriend and then himself had alcohol issues and was drinking the night before. He had issues with prescription drugs, Domestic abuse and had short term memory loss.
Congress Considering Doing Away With The One-Dollar Bill – Congressional auditors say that doing away with dollar bills entirely and replacing them with dollar coins would save taxpayers about 4.4-billion-dollars over the next 30-years.  One-dollar coin are unpopular, it could stay in circulation for 30-years, while paper bill have to be replaced every four-to-five years or so.
New Exorcism Hotline – An Exorcist Hotline has been created by the Catholic Church in Milan. They have also doubled the number of exorcism-practicing priests.  They say the need for exorcism has increased.
Woman Is Leaking – A woman in Arizona had a drippy nose for months. Liquid would poured out of her nose when she looked down and bent over.  Doctors told her she had allergy.  She went to a specialist when it didn't stop and turns out her brain was leaking. It was cerebrospinal fluid leaking from cracks in the back of her sphenoid sinus, and it could have killed her.  While rare, these leaks are dangerous and can lead to infection and result in meningitis.
Man Convicted of Raping His 5-Year-Old Godson – A Philadelphia man could get more than 100 years in prison after being convicted of sexually abusing his godson. He had offered to take care of the boy for the mother who was struggling financially. The man had previously been accused of raping a child and murder but was never convicted.
Train Derailment Cleanup Put on Hold – The chemical cleanup of the derailed train in Paulsboro is being put on pause because air samples registered high readings from the chemical spill. They started pumping the vinyl choride out of the cars, but stopped. They will bring in a big crane from NY.
NJ Students Sickened By Bob Marley Drink At School – Officials have removed a relaxation drink named after reggae icon Bob Marley after several students at a New Jersey school were sickened. It's supposed to release stress and may cause drowsiness. The kids could buy it at middle school campuses.
#SayWhat News (weird, outrageous, surprising and crazy news) goes down around 7:55a and 8:55a everyday with @MinaSayWhat on @Power99Philly.
LEAVE A COMMENT
comments