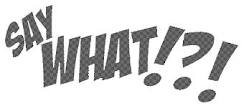 Hillbilly Porn Rising– If we thought that the backwoods were going to stay on family shows like "Here Comes Honey Boo Boo" and "Duck Dynasty" we were very wrong! As these shows have gained popularity so has "hillbilly porn" with sales tripling in the last two years. According to GameLink.com there has been a 250% increase in "southern, white-trashy" porn titles since 2010. The President of Animal Planet said that the hillbilly shows have gained so much popularityy because people have a "desire to connect back to something that's a little more raw." Guess that's spilled over into the porn world too!
11 Year Old With 20 Pound Tumor– An 11 year old Florida girl was accused of being pregnant and was even given pregnancy tests by her mother after her stomach started to grow. The growth turned out to be a 20 pound tumor, doctors have discovered. Luckily the tumor was not cancerous but the little girl is still coping with what happened to her.
Worker's Comp For Sex Injury– A woman who was injured while having sex on a business trip has been granted workers compensation benefits by an Australian court. During sex, a glass light fixture fell from a mount onto the woman's face injuring her nose and mouth. She then dealt with depression that hindered her from working.
Instagram Getting Ads– Now that Instagram has merged with Facebook, ads are on the way. People are nervous because according to the new 'Terms of Use' that will take effect in January user photos and names may be sold to advertisers without consent or compensation.
Read more #SayWhat News by clicking below for more.
#SayWhat News (weird, outrageous, surprising and crazy news) goes down at 6:55a, 7:55a and 8:55a everyday with @MinaSayWhat on @Power99Philly.
CT Shooter Mom Said "She Was Losing Him"– About a week before Adam Lanza went on the killing spree that left 28 people dead his mother told a friend that she was having trouble getting through to him. She said "I don't know. I'm worried I'm losing him." Lanza had apparently started burning himself with a lighter in an effort to "feel something."
School Lockdown In PA Because Of Umbrella– Suburban Philadelphia high school, Dublin High, went into lockdown yesterday because of an umbrella. School security reported a "suspicious incident" after seeing four students in a hallway with what looked like a "long gun". Students started to get emotional and parents began showing up at the school to pick up their kids. The shooting at Sandy Hook Elementary last week definitely has places on an even higher security alert.
Attorney: Punching Cop Will Be Cleared Of Charges At Trial – Remember the cop that was caught on tape punching a woman in the face n the man handling her while he cuffed her at the Puerto Rican day parade in North Philly. Since then he has been fired and charged with simple assault. Well his attorney is saying the ex cop, Jonathan Josey, will "have the opportunity to present all the evidence in the courtroom, and show that Lt. Josey acted reasonably under the circumstances.
U.S. Lawmakers From Pa., N.J. Evaluating Gun Laws – The CT School Shooting has a lot of people on the edge about gun laws and the protection of our kids in schools. Democrats from Philadelphia and New Jersey called for bans on assault weapons and high-capacity magazines, and tougher background checks for gun purchases.
Parents Pissed About PA School Closings – On June 30th 37 public PA schools are closing because of "budget cuts" and "lack of enrollment." Upset parents, teachers and students meet with the Philadelphia school district administrators at yesterday at Sayre High School in West Philly. They are concerned with their kids increase travel time to school, potential school rivalries and that 14 of the schools on the list are on the most violent list. This could increase the violence on the streets and in the schools.
LEAVE A COMMENT
comments