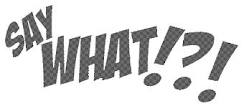 Man Falls From Sky – In London, people who saw it say the man feel from a plane that disappeared. They say he was hiding on the plane from Angola and fell when the plane lowered its landing gear. He landed in a suburb half a block from a convenience store, an upscale lingerie boutique and a shop selling Chinese herbal remedies.
Campus Cops Kills Student – Happened on the California University campus and campus cops said they were called to an off campus dorm where a 38 year old grad student was causing a disturbance.  The cops said they tried to contain the grad student, but he started getting aggressive and they "feared for their lives." So they shot him dead.

3 Florida Men Short What? – A 20 year old and his 2 boys were sentenced to 8 years in prison for robbing a house for 1,500 worth of jewelry, a laptop and tv. What makes this worse is that they found an urn that had some powder in it. They thought it was crushed-up pills, so they tasted and snorted it. Turns out the homeowner says it was ashes of her dead dad and 2 dogs.
#SayWhat News (weird, outrageous, surprising and crazy news) goes down at 6:55a, 7:55a and 8:55a everyday with @MinaSayWhat on @Power99Philly.
Read more #SayWhat News by clicking below for more.20-Year-Old Charged With Statutory Sexual Assault – In Radnor police charged a 20-year-old boy for having sex with a 13-year-old girl.  This is the same story I talked about last week, where a girl disappeared with a boy she meet on the Internet. Radnor investigators are warning parents "be careful, know when your child is on the internet. If at all possible, know your child's password and be familiar with what your child is doing on the internet." He faces 100 years in prison.
McDonald's Customer Attacks Employees Over Cheeseburger – It was in Springettsbury Township, Pennsylvania, a customer knocked over a trashcan and threw a high chair across the restaurant when he was served a cheeseburger instead of a hamburger.  An employee says she followed the suspect out of the restaurant in an attempt to get his car's license plate number, but the suspect grabbed and threw her cell phone across the parking lot before he drove away.
Six From Philly Charged In SEPTA Scheme – They were arrested and charged with insurance fraud and related counts for saying they got injuries while they were riding a 56 bus. 2/3rd of SEPTA's buses are now equipped with up to eight video cameras. This man was on the bus when a woman fell on the bus.  Following policy, the Septa bus driver gave them incident cards and no one filed them on the spot. A week later Septa received 6 complaints from the same incident with medical bills adding up to 54,000. Videotapes showed only him and the woman were on the bus and the woman tripped on her own. The guy recruited 4 other people to file complaints and they were even on the bus that day.
LEAVE A COMMENT
comments