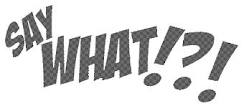 More Details About Mom Who Decapitated Her Son– Toxicology reports reveal that the New Jersey mother who decapitated her 2 year old son and then committed suicide was on drugs at the time. The reports show that PCP-laced marijuana was in her system. The mother decapitated her son and then put his head in the freezer. The woman had a history of mental illness and had lost custody of her son twice before.
Two Women Plan To Help Prisoners Get Out Of Jail– Two women in Chester County PA have been charged with conspiring to to help murderers escape from prison. Prosecutors are saying that the women were trying to come up with a plan to help Saleem Williams and Shamek Hynson escape from the Chester County prison. They women were going to smuggle in tools and a gun. Hynson was serving a life sentence for a murder that occured when he was the leader of a Lancaster County drug gang. Williams was scheduled to stand trial this week for a murder in Phoenixville last year. The plot was going to start in the visitors room but security guards who check packages uncovered the scheme.
Jovan Belcher Update– Jovan Belcher was approached by police at 3AM the morning of the murder-suicide for sleeping in his car outside of an apartmel building. They questioned him as to why he was there and he told them he was waiting for his girlfriend but that she wasn't home. Belcher then made a phone call and was let into the building by a woman. Police did not question Belcher or the woman further. Cheif's officials are saying that they knew Belcher and his girlfriend were having issues and gave them couples counseling. After shooting her, it is said that Belcher leaned over to apologize and kiss her.
World's Oldest Woman Dies – A Georgia woman who was listed as being the oldest woman alive died on Tuesday morning in her nursing home. Besse Cooper was 116. She was declared the oldest woman alive back in 2011. She was alive before women could even vote!
Women Kills Herself Because She Couldn't Stop Masturbating– Gretchen Molannen, 39 suffered from a debilitating disease where she had constant, uncontrollable orgasms. She had struggled from persistent genital arousal disorder (PGAD) for more than a decade-and-a-half. She had attempted suicide 3 times already and was found dead in her home yesterday. Her condition stopped her from getting steady jobs but did not make her eligble to collect disability payments.
Octomom Nominated For Awards– Nadya Suleman has been nominated for four awards from the Adult Video News. Her infamous sex-tape "Octomom Home Alone" has been nominated for: Best Celebrity Sex Tape, Best Solo Release, Best DVD Extras, and Best Marketing Campaign.
#SayWhat News (weird, outrageous, surprising and crazy news) goes down around 7:55a and 8:55a everyday with @MinaSayWhat on @Power99Philly.
LEAVE A COMMENT
comments