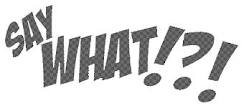 Owner Of Pornhub And YouPorn Arrested – His name is Fabian Thylmann and he's been arrested on suspicion of tax evasion. Fabian was arrested on a German warrant and is currently in custody in Belgium, where he lives.YouPorn and Pornhub are among the 110 most popular sites on the planet.
Boy To Turn 12 at 12:12 P.M. Today On 12/12/12  – Kiam Moriya will remember his 12th birthday for the rest of his life.  He currently live in Alabama, but was born in Bronxville, NY.Rather than a birthday cake, Kiam has requested Krispy Kreme donuts arranged in the shape of a 12.
Drug Dealer Loses $20,000 In Drug Money – An alleged drug carrier was traveling through an airport when he called police to say he misplaced $20,000 in drug money. The man asked an officer to write him a note so he could bring to the local drug cartel so that he would not be killed. The officers arrested him and later found the money in his house. smh
Parents Steal Their Baby – In PA, a woman is being charged for taking HER child who had down syndrome from Lehigh Valley hospital against doctor's order.  According to the mom, the baby needed special treatment for a heart defect and the hospital would not transfer her daughter to the Children's Hospital of Philly.  She claims they gave her the run around for months because her Medicaid would not pay for it. So she unhooked the baby from the hospital machines and took her.
#SayWhat News (weird, outrageous, surprising and crazy news) goes down at 6:55a, 7:55a and 8:55a everyday with @MinaSayWhat on @Power99Philly.
For more #SayWhat news clicking below for more.
Prada's Stolen – Christmas presents have been stolen from a front porch. UPS left the package and minutes later a woman walked up on the porch and took it. Inside the package were 2 pairs of Prada sneaks worth $250 each.
Tis The Season Of Giving The Flu – Pennsylvania Department Of Health is reporting higher normal number of flu cases this season since Thanksgiving. They say "Last year, during this same week, we reported 12 cases of influenza," Senior says, "and we have 448 reported during this week this season." The number of people with the flu has increased across the nation.
Man Breaks Into Ex-Girlfriends Home – In Lyken, Pa, the woman reported someone had broken into her apartment when she was not home. The man glued her refrigerator door shut and a utensil drawer. Glue had also been poured on her computer keyboard. Her boyfriend was charged with burglary, trespassing, stalking and criminal mischief.
Plane Fuel Pumped Into Cars – In Hamilton & Lawerence, NJ, plane fuel was accidently delivered to 3 gas stations.  The gas stations have been shut down since Friday. This is a huge problem because plane fuel can cause a car to blow up.  Thank god nothing happened.
Big Time Drug Dealer Is Locked Up In PA – His name is David Duran and they found nearly 800 packets of heroin, a pound and a half of weed, and a loaded gun.
#SayWhat News (weird, outrageous, surprising and crazy news) goes down at 6:55a, 7:55a and 8:55a everyday with @MinaSayWhat on @Power99Philly.
LEAVE A COMMENT
comments