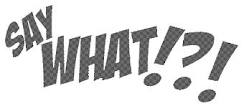 Woman Killed During Walmart Robbery – A woman was shot and killed by an off-duty police officer as she attempted to rob a Houston Walmart. The woman and her accomplice were caught in the store stuffing their purses with merchandise. The officer approached the women and they slapped him with their purses and ran away. In the parking lot they attempted to run over the deputy but he managed to get out his gun and fired one round. The first suspect was pronounced dead at the scene and the second suspect was taken into custody.
Gun Found In Frozen Ribs– New Mexico authorities are still trying to figure out how a handgun and ammunition ended up in a pack of frozen meat at a New Mexico store. The ribs came from a plant in Colorado and is dated June 8, 2011. The weapon has not been reported stolen and police are trying to determine if it has been used in any crimes.
Jail Nurse Jingles Prisoners Bells- A North Syracuse jail nurse is facing up to four years in prison for performing oral sex on an inmate. The 37 year old was arrested on charges of a felony count of third-degree criminal sexual act. The reason her action was a crime is because inmates are not legally capable of consenting to sexual acts while in custody. The inmate, who has since been released, says that he and the woman continued having sex after he was no longer in custody and that they smoked crack together on numerous occasions.
Stylish Monkey Roams Ikea- A monkey wearing a sherling coat and a diaper was found wandering around a Canada Ikea. The monkey was left in the car by its owners but somehow got out and found its way into the store.
#SayWhat News (weird, outrageous, surprising and crazy news) goes down at 6:55a, 7:55a and 8:55a everyday with @MinaSayWhat on @Power99Philly.
For more new click below for more.
Walnut St. Flooded- A water main break that occurred on Saturday has left much of the 15th-17th hundred blocks of Walnut St. under as much as 8 inches of water. Water gushed up through several large fissures in the road that ultimately pushed asphalt in front of some of the stores. The break has left many businesses including BCBG, American Apparel, the Apple store and residents without water. Some stores are still operating and customers are getting through the side walks that are still open.
Cory Booker Discusses Food Stamps– Last month, Cory Booker accepted a challenge to live off of food stamps for an entire month. He is living off of $30 a week in groceries which is about $1.40 per meal. The mayor has said that his new diet includes beans, peas, rice and sweet potatoes. He even said that one night he had to resist the urge to eat another potato and went to bed hungry. Many are applauding his efforts to show the struggles of many families who rely on food stamps as their primary source of food. The average monthly food stamp benefit was $133.26 per person in New Jersey in fiscal year 2011.
Penn State To Pay Fines- The Penn State scandal surrounding Jerry Sandusky and Joe Paterno has left the university with hefty fines. Later this month the school will makes its first payments towards the $60 million fine issued by the National Collegiate Athletic Association. The funds will be held in an account until officials figure out how to distribute the funds amongst programs that combat child sex abuse and help victims.
Tax Break Proposal For Sandy Victims– Two democratic senators have proposed some tax revisions to help the victims of Hurricane Sandy recover faster. They suggest that all storm-related repair costs be fully tax deductible and that credits should be issued to subsidize home and business repairs to help business-owners keep their workers on the payroll. Senator Schumer said, "These changes to existing tax law are a common sense and simple way to help disaster victims, and a quick way to get them aid to repair their homes, to recover losses, and to support their businesses".
Boy Accidentally Killed By Father- A 7 year old was fatally shot by his father in what is being called an accident. The man and his son were at a gun store where he was trying to sell a handgun and rifle. As he was putting the firearm in the center console of the car the weapon went off striking his son, who was sitting in the back seat, in the chest.
LEAVE A COMMENT
comments