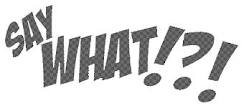 Instagram Is Buggin Out- Instagram was the subject of a lot of chatter and criticism today after it announced some big changes to its privacy settings. Since teaming up with Facebook they have plans to start advertising which may include selling user's photos to companies without their consent or compensating them. Instagram assures users that any privacy settings they set in place will be honored by the partnering affiliates.
Woman Burns off BF's Scrotum- A Chicago woman is being held on $100,000 bail after running her boyfriend over with her car. She went to pick him up from a bar on Friday night when they started arguing. When they arrived home the boyfriend passed out on the ground in front of the car and Christine Meyers allegedly ran him over- causing severe burns to his chest and ripping the skin off of his testicles.
Woman Tries To Buy I-PAD With EBT – A woman in Louisville, Kentucky is facing charges after she attempted to purchase an iPad with her food stamp card. Tracy Brown went into Walmart and tried to charge the two iPads to her EBT card. When it was declined she ran from the store with the tablets in hand, assaulting a clerk on her way out. She was later arrested.
Read more #SayWhat News by clicking below for more.
#SayWhat News (weird, outrageous, surprising and crazy news) goes down at 6:55a, 7:55a and 8:55a everyday with @MinaSayWhat on @Power99Philly.
Woman Sentenced For Kid Porn- A woman from central New Jersey has been charged with making and streaming kid porn. The woman sexually assaulted a 5 year old girl that she was babysitting and then streamed footage of the act online in a live video chat. She has been sentenced to 30 years in federal prison and will remain on lifetime supervision once she is freed.
Pa. Beauty Queen Ordered To Pay Pageant $5 Million – A Pennsylvania beauty queen has to pay Miss USA $5 million in defamation damages after she claimed that the contest was fixed. A court found Sheena Monnin's comments "false, harmful and malicious". Monnin competed in Miss USA as Miss Pennsylvania USA but didn't make it past the preliminary rounds. She said that the contest was fixed because another contestant claimed to see a list of the finalists before the competition even started. When Monnin would not recant her statements Donald Trump and Miss USA sued her. She has since resigned as Miss Pennsylvania USA.
Missing Delaware Woman Found In Canada- A woman from Delaware who had been missing for three months is back home after she was found in Canada. After police issued news reports about the missing woman a shelter in Toronto contacted investigators informing them of a woman that matched the description. Linda Hegg suffers from an unidentified medical condition and is currently recovering in a hospital with her family.
Fake Dentists Caught- 45 year old Cheryl Laing and 24 year old Jessica Gullickson have been arrested for practicing an after-hours dentist without proper training. The duo performed root canals, installed braces and pulled teeth at a low cost to provide services to uninsured patients. One patient described a 45 minute extraction and another said that the receptionist, Gullickson, was left to "find the root" during a procedure. They have both been charged with theft and conspiracy.
LEAVE A COMMENT
comments