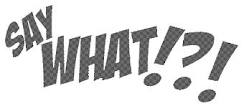 2 Men Steal 65,000 In Chicken Wings – Two men in Georgia have been arrested and charged with theft after stealing $65K worth of chicken wings! The 35 and 26 year olds worked at the cold storage factory where the 26,000 pounds of wings were forklifted from! Authorities believe that the nationwide shortage of chicken, the rising price of chicken and the upcoming Super Bowl were all motivating factors in the theft. They have both been released on $2,950 bond. The wings have not yet been found.
Man Commits Robbery To Pay For GF Probation – 22 year old Marcus Baldwin has taken the term 'ride or die' to a new level. He has been accused of robbing four businesses in an attempt to raise enough money to pay his girlfriend's probation fees. Three of the businesses were Waffle Houses another was a gas station- he really went for the big money. The bail was paid off before he was arrested. He has been charged with four counts of armed robbery and six counts of aggravated assault, and is being held on $80,0000. Isn't it only right for his chick to rob some iHops to post his bail.
Ratchet Mom Gets Tased In Front Of Her Kids – A mom in Atlanta got laid out by Top Flight Security after they could take no more of her ratchetry. Guards were trying to get the woman to leave a shopping mall and when she refused she attempted to attack the authorities. They were left with no choice but to taser her in order to subdue her, unfortunately her kids were watching on.
Read More #SayWhat News by clicking below for more.
Mother Gives her Baby Boy a Tattoo By Force
Reward For Abductors Up To 80,000 – The reward money for information leading to the arrest of the individual(s) who are responsible for kidnapping 5 year old Naila Robinson from her elementary school back on January 14th has risen yet again and is now at $80K. There are believed to be two people involved- a woman in her 20s who possibly goes by 'Rashida' and a male in his mid 30s. Anyone with information can call Philadelphia police at 215-686-TIPS (8477), the Special Victims Unit at 215-685-3251 or 911. Emails can be sent to: tips@phillypolice.com If you want to donate send checks to Nailla Robinson fund at TD Bank. (Account number 4275340671)
Person Of Interest Being Sought In Abduction Case – Naila Robinson, the five year old abducted from her Philadelphia classroom, has remembered some new information after she was kidnapped about two weeks ago. She recalls meeting a girl by the name of 'China' or 'Chyna' during the time she was held. 'China' is described as a teenage girl between 14 and 17 with light skin, a thin build and straight black hair. She is being considered a person of interest who may know the identities of Naila's kidnappers. If you have information about China or the case in general you can call Philadelphia police at 215-686-TIPS (8477), the Special Victims Unit at 215-685-3251 or 911. Emails can be sent to: tips@phillypolice.com
Doctor Killing Crazy Exposed Himself on I-95 – The man who admitted to killing a CHOP doctor in Center City last week has also admitted to exposing himself on I-95 last year. According to reports he was involved in a road rage incident in Bensalem last March where he gave a woman driver an eyeful. He was charged with disorderly conduct and fined $289. He is currently being held without bail for the murder of Melissa Ketunuti.
Gun Purchases Soar In PA – With the rising scare of school shootings and pending laws, gun purchases have been steadily increasing. Last month the FBI processed 25% more background checks for firearm purchase than last year- 133,241 to be exact. The number of checks does not necessarily translate to the number of guns sold but it is an indication that people are buying more and more.
#SayWhat News (weird, outrageous, surprising and crazy news) goes down at 6:55a, 7:55a and 8:55a everyday with @MinaSayWhat on @Power99Philly.
LEAVE A COMMENT
comments