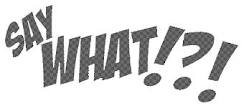 Man Allegedly Stole Father's Body From Cemetery To Resurrect It  – A 48 year old man was arrested after he stole his father's body from a cemetery before it could be buried. Police found Clarence Bright's body in his son's basement- they don't yet have a motive for why the body was taken. It is reported that the son's mental state is a question and that he put the body in his basement freezer because he believed he could resurrect it. When police received report that the body had been taken and that there was a white van near the scene at the time they found Bright's son's van at a gas station with the empty casket. As of yet no charges have been filed and the body has been returned.
18 Human Heads Found At Chicago Airport – An x-ray screening at a Chicago airport unveiled 18 frozen human heads! It turns out the heads were in the wrong place because of a mixup in paperwork and were actually used for medical research in Italy and were being returned to Chicago for cremation. It turns out that scientific cadavers are shipped all the time. Close to 800 bodies are donated each year to help with the progression of scientific research.
Food Inspectors Find Horse Meat In Hamburgers – A UK supermarket has issued a mass apology after horse meat was found in the beef burgers it was selling to customers. Inspectors found as much as 30% horse meat in some samples. There was no risk to human health and the stores are working with their suppliers to figure out what happened. Customers can bring back the meats for a full refund.
Read more #SayWhat News by clicking below for more.
Cops Go Door To Door Searching For 5 Year Old School Abductor – Police are going door to door to find answers in relation to the abduction of 5 year old Nailla Robinson earlier this week. She was taken from her classroom by an unidentified woman to a house near Bryant where an unidentified man was. The man was described as in his mid-30s, with light brown or white skin, and short brown hair. He wore sweatpants and a blue, long-sleeve T-shirt. Nailla told police that among other things, she was blindfolded and forced to hide under a bed. Police are searching actively for clues  in the surrounding neighborhood, near the elementary school and the park where she was later found. Her family thanked everyone for their outpouring of support and they are focused on getting Nailla back to her normal self.
School Safety Still Not Being Enforced – After Monday's abduction of Nailla Robinson right out of her classroom communities are concerned about the safety of Philadelphia schools. The superintendent said that school officials failed to follow protocol which lead to Nailla's abduction. An NBC reporter went to 5 elementary schools and two of them opened the doors and let her in without asking any questions. A Philadelphia School District Spokesperson said, "For anyone to be allowed into the school without being challenged is a real, real issue with us. You have to have a business. You have to have something to do with the school. You can't just say, 'I am "X" and I'm coming in." The district plans to meet with school principles to make sure the rules are being enforced.
Man Charged With Assault In Fungus-Spray 'Exam' – A 12 year old boy was walking home from school when 63 year old Paul Jamrozik lured him into his house sprayed him with athlete's-foot spray and then pretend to be a doctor as he examined the boys feet. He then asked the boy to bring his friends along next time so he could examine them too. The boy told his dad and Jamrozik was charged with indecent assault, corruption of minors, unlawful restraint and luring.
Obama Gun Laws – In the wake of the shooting at Sandy Hook Elementary School Obama has put together a multi-part plan that he believes will help to prevent mass shootings and reduce gun violence throughout the country. Some of the initiatives include,
– Universal background checks for gun sales
– The reinstatement and strengthening of the assault weapons ban (ban expired when Bush was in office nearly 2 decades ago and he never re-instated it.)
– Capping ammunition magazines to a 10-round limit; banning armor-piercing ammunition;
– Other provisions include:
150 mill requested for schools to add police officers and school counselors
Federal and medical information available for background checks.
Creating serious punishments for gun trafficking
Ensuring that health insurance plans cover mental health benefits.
He acknowledges that there is no legislation that can prevent everything from happening but says, "I will put everything I've got into this — and so will Joe — but I tell you, the only way we can change is if the American people demand it."
#SayWhat News (weird, outrageous, surprising and crazy news) goes down at 6:55a, 7:55a and 8:55a everyday with @MinaSayWhat on @Power99Philly.
LEAVE A COMMENT
comments