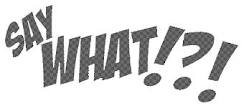 Charlie Brown Voice Actor, Arrested For Stalking – Peter Robbins- who served as the voice of Charlie Brown for the TV series- was arrested after he was accused of stalking his ex girlfriend and threatening a plastic surgeon. The surgeon apparently gave his ex a pair of boobs that he was not too fond of. He pled not guilty to two counts of stalking and 10 counts of making criminal threats. Robbins allegedly repeatedly called the ex girlfriend and plastic surgeon and threatened to kill ex and beat the family dog if she didn't get a refund for her breast procedure! He is facing up to nine years in prison if convicted. Good Grief!
World Record Set For Largest Hips – 420 pound Mikel Ruffinelli has given new meaning to the word 'thick' and set the world record for the largets hips. She's 5'4 with a 40 inch waist and her hips have a circumference of 8 feet! She said that she will not diet because she doesn't have health problems and that her husband loves her figure. She said, "Men don't fancy skinny girls, they like an hourglass figure." Or in her case…an eternity figure.
Dog Put In A Hot Oven For Biting – A 20 year old man put his grandmothers dog in a 350 degree oven after the dog bit him. The 9 pound, 6 year old Chihuahua-pincher mix had many injuries and burns. The man says that he has anger issues and that he was taking care of the dog while his grandma was out of town. He has been arrested for aggravated abuse and the puppy, Kudo, is expected to make a full recovery.
For more #SayWhat News click below for more
PA Woman Hides Cocaine In "Her Coochie" – Pennsylvania woman, Samantha Kurdilla admitted to trying to smuggle cocaine into the United States through her vagina! She and James Perry were arrested after a police dog smelled a 'narcotic odor' coming from her groin. She and Perry were at the US-Mexico border when the condom filled with 100 grams of cocaine was discovered after she denied several times that she was bringing anything back into the states. Text messages in her phone said, "I'm smuggling cocaine and heroin in my coochie."
Cops Find NJ Burglary Suspect In Clothes Dryer – 34 year old Heather Deller from Ocean County probably won't pick a clothes dryer as her hiding spot the next time she wants to rob someone.  She had stolen cash from a local bar the night before and police were able to identify her in the surveillance cameras. When they went to her house they found her hiding in her dryer! She was arrested for burglary and is being held on $15,000 bail. A man who was at the house the time she was discovered was also arrested for 'hindering apprehension'. Laundry will never be the same in that house again.
Man Charged In Center City Doctor Murder – Melissa Ketunuti was found in her home in Center City tied up and set on fire. Investigators believe Ketunuti was strangled but there was no sign of sexual assault. Jason Smith of Levittown has been charged in the murder.
Sub Teacher Abuses Boy In Bathroom – An Allentown School District substitute teacher has been arrested and convicted after he was accused of sexually assaulting a 9-year-old boy in a school bathroom. The boy, who has special needs, did not immediately report the assault but his mother became concerned when he started acting strangely. He told authorities that the 47 year old held him against the wall and assaulted him. The sub initially denied the allegations but has since admitted it.
#SayWhat News (weird, outrageous, surprising and crazy news) goes down at 6:55a, 7:55a and 8:55a everyday with @MinaSayWhat on @Power99Philly.
LEAVE A COMMENT
comments