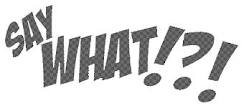 Deaf Man Shot – Terrance Daniels, who is deaf, was using sign language with another deaf man when 22 year old Robert Neal stabbed him because he thought he was throwing up gang signs. Neal has been charged wuth felony assault on a handicapped person and assault with a deadly weapon with intent to kill. Police found Daniels ina nearby intersection after neighbors called for help. Neal is being held on $500,000 bond.
400 Pound Woman Saved From Sidewalk Fall – A 6'5 400 pound woman believes that her weight saved her from a fall that happened in Queens, NY. Ulanda Williams was standing on a sidewalk when a 4'6 foot segment of the pavement collapsed into a cellar. She believes that a thinner woman would have died from the fall. She was admitted and later released from New York Presbetyrian Hospital.
Couple Who Met On Facebook, Shared A Name And Got Married Get Divorced – Kelly Hildebrandt and Kelly Hildebrandt met on Facebok, fell in love and got married back in 2009.  Guy Kelly said, "She's a Florida girl, and I'm a Texas guy. We really did come from pretty different worlds." Guess having the same name isn't enough to hold marital bonds. The couple sites 'irreconcilable differences' as the reason they two are splitting up. They said "We gave it our best shot."
Temple Women Near Top In Seeking 'Sugar Daddies' – According to SeekingArrangement.com Temple University is one of the top schools with students who seek out a 'sugar daddy' to fund their education expenses. 268 female students from Temple were sugar babies looking for a sponsor. Penn State and the University of Pennsylvania had high percentage rates as well.  The number of sugar babies in Pennsylvania has been steadily rising over the years.  See the full list and..
Read more #SayWhat News by clicking below for more.
Georgia State University — 292 (#11 in 2011)
New York University — 285 (#1 in 2011)
Temple University — 268 (#5 in 2011)
University of Central Florida — 221 (#14 in 2011)
University of Southern Florida — 212 (#7 in 2011)
Arizona State University — 204 (#8 in 2011)
Florida International University — 187 (#20 in 2011)
University of Georgia — 148 (#2 in 2011)
Indiana University — 131 (#17 in 2011)
Texas State — 128
Kent State University — 123 (#15 in 2011)
Penn State — 121 (#13 in 2011)
University of North Texas — 112
Florida State University — 111
Tulane University — 109 (#4 in 2011)
Michigan State University — 108 (#9 in 2011)
University of Ohio — 103
Columbia University — 100
University of Alabama — 96
University of California Los Angeles — 91
Charges Against 46 Accused Drug Dealers Tossed – 46 accused drug dealers in Philadelphia had the criminal charges penned against them thrown out yesterday in court. The cases were compromised because of allegations against members of Philadelphia's narcotics team. Six members of the team are subjects of an investigation. Officials are not releasing what the investigation is about. An attorney working with the case said "A lot of drug dealers are being freed who shouldn't be because of bad police work, or because of corrupt police work."
 Amber Alert: 5-Year-Old Taken From Philly School Found – Pennsylvania police have issued an Amber Alert for Naiilla Robinson. She's a five year old who attends William Cullen Bryant Elementary School in Philadelphia. She is 4 feet tall, 35 pounds and was last seen wearing a light blue shirt, navy blue pants and black and hot pink sneakers. The girl's teacher saw her leaving the school with an unknown woman wearing 'Muslim-style' clothing. The woman entered the classroom and told the teacher she had signed Naiilla out. Officials realized the girl was missing when she wasn't there for her daycare program's pickup. Police are offering a $10,000 reward for her return.
New Website Gives Easiest Look Yet At Crimes By Neighborhood – A city worker of Philadelphia has developed a website that lets users pick boundaries and see a breakdown of illegal activity in the area. Creator David Walk, said, "There are so many different crimes. I thought it'd be good if people could easily find crimes in their area. The ultimate vision with this is to allow users to select the region they want to know about and get a text or email alert weekly/monthly of all the new crimes in that area. It'll take some time to get there, but I think the app really becomes useful at that point."
#SayWhat News (weird, outrageous, surprising and crazy news) goes down at 6:55a, 7:55a and 8:55a everyday with@MinaSayWhat on @Power99Philly.
LEAVE A COMMENT
comments