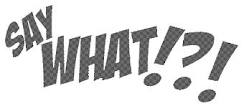 Naked Man Climbs On SEPTA Bus – A Facebook video has gone viral after it shows a naked man climbing onto the front of a Route 3 SEPTA bus in broad daylight! The man climbed onto the bike rack with his boxers on his head then calmly walked away. Until he saw that his ballsy move was caught on camera then he started to chase the video man. Those poor bus riders sure got way more than they paid for that day!
Watch Below (Graphic)

Naked Intruder, Pooped And Masturbated In Tony Lands' Florida Home – We all know that the crazies breed in Florida but Matthew Bruni has taken the term to a new level. Tony and Ladonna Lands were at home around 7PM when they heard noises coming from the roof. Tony went outside and a naked Bruni allegedly jumped on top of him before running inside to continue his tirade. He is said to have knocked down a TV, spilled the vacuum contents on the floor, masturbated and popped in two different spots on the floor. After he was taken to the hospital for evaluation he was charged withcriminal mischief, battery, occupied burglary and resisting arrest without violence.
New Mexico Bill Would Criminalize Abortions After Rape As 'Tampering With Evidence' – Republican lawmakers have proposed a new bill that would require rape victims to carry conceived fetuses to term to be used as evidence in the investigation. House Bill 206 would mean that rape victims who terminate pregnancies would be guilty of third degree 'tampering with evidence'. This carries a sentence of up to three years in prison. It's said that the bill is unlikely to pass due to majority Democrats in the chambers.
For more #SayWhat News click below for more
Exterminator Killed Doctor After Arguing During Appointment – Dr. Melissa Ketunuti of the Children's Hospital of Philadelphia was found bound in her basement in Center City and set of fire. Jason Smith has been charged in the murder. The 36 year old is being charged with faces counts of murder, abuse of corpse, arson and risking catastrophe. Smith was contracted as an exterminator in Ketunuti's building to deal with a rodent problem. The two apparently got into some sort of argument that ended in him striking and strangling her. Surveillance video played a large part in the arrest of Smith who does not have a history of violence. He is said to have gone to another exterminating job after the murder.
Google Transparency Report Shows Government Snooping Up – An update from Wednesday shows that the FBI and cops are requesting user information at higher rates than ever. In 2012 Google received more than 8,000 subpoenas for Google user data. The biggest issue people have is that law enforcement is not receiving warrants for the data that it is requesting.
Reward For School Kidnappers Up To 30,000 – Information that leads to the arrest of the individuals who kidnapped 5 year old Nailla Robinson from her West Philly elementary school will be rewarded with $30,000. The man who found the little girl will receive the original $10,000 reward. The current offer includes $5,000 from the Fraternal Order of Police, $5,000 from the Citizens Crime Comission, $10,000 from the NAACP and $10,000 from the city.
Bucks Co. Tattoo Artist Gets 494.5 to 989 Years In Prison – Walter Meyerle of Bucks County has been sentenced to hundreds of years in prison after being convicted of sexually assaulting more than a dozen children. The victims range in age from 4-17 with one 15 year old girl saying that he traded sex with her in exchange for a tattoo. Child pornography and text messages with teen girls were confiscated from his home. At his trial he had no defense. Anyone with information is asked to call Philadelphia Police at 215-686-TIPS (8477), send a text message to PPD TIP (773847) or send a tip through phillypolice.com.
#SayWhat News (weird, outrageous, surprising and crazy news) goes down at 6:55a, 7:55a and 8:55a everyday with @MinaSayWhat on @Power99Philly.
LEAVE A COMMENT
comments