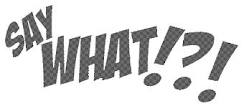 Man Points AK47 At Daughter For B Grades – 51 year old Minnesota man, Kirill Bartashecitch, has been arrested after he allegedly pointed his AK-47 at his daughter during an argument after she got two B's on her report card. He says that he bought the weapon because he thought that President Obama's gun legislation would put a ban on them. His 15 year old daughter told him that she hated him during the argument over the grades at which point he pointed the rifle at her- the girl's mother confirms the story. Authorities were notified after a school official saw the girl send text messages about the incident to a friend. The girl has been taken to a shelter and her father will appear in court on Friday.
Boys Fakes Kidnapping So Parents Miss Teacher Conference – An 11 year old boy in Spain has a lot more to worry about than a teacher's conference these days. Last Monday the boy sent a text message to his police officer father claiming that he had been locked in a car trunk and kidnapped. When the boy's father called his phone he faked static and hung up. A nationwide alert was sent out and Portugal authorities were notified. The boy's father realized something was fishy when he noticed that the keys to a second family apartment were missing. The boy was found hiding in the home and luckily his parents weren't charged with anything because of the false alarms.
Utah Man Sues Police For Letting Hospital Worker Perform Oral Sex – Brett Jensen is suing Police in Utah after he says that an officer allowed a hospital worker to perform oral sex on him while he was unconscious. Jensen was being arrested for public intoxication when he was passed out and taken by EMS to a local hospital at the officer's request. Allegedly the officer sat and did nothing as hospital worker, Hal Weston, sodomized him. Weston has since been fired and charged. Jensen is seeking damages for sexual battery, personal injury, emotional distress and a host of other things.
For more #SayWhat News click below for more
PA Funeral Makes Pit Stop At Burger King – 88 year old David Kilme Jr.'s funeral procession made the most of his trip to his final resting spot. Klime was a fast food lover whose face and order was known at the local Burger King. It was arranged for the hearse and all of the cars in the procession to stop at the drive through on the way to the cemetery where everyone got a sandwich. An honorary sandwich was placed on top of Klime's casket as a happy way of honoring the fun-loving man.
Dog Left Outside Freezes To Death – A dog left outside in Kensington, PA froze to death. Pennsylvania SPCA was called out after the animal was left outside overnight in the 17 degree weather. The home was allegedly filled with trash and animal feces. Two other dogs were rescued from the residence and authorities are looking for the owner of the house who now face animal cruelty charges. SPCA members stress how important it is to bring pets inside during these extreme winter nights.
A Study On Molly – Most teenagers and college kids are using it in the Philly area. It's basically the purest form of Ecstasy and in comes in the form powder put on your gums or in your water bottle. Reports say Molly is dangerous and can kill. There's no way to give the exact contents because everyone makes it differently. Some of the pills have meth. Studies say poppin Molly's can cause drain damage, dehydration, and organ failure.
Students At Pa. School Must Ask For Toilet Paper – An eastern Pennsylvania high school says vandalism forced it to create a policy in which toilet paper has been taken out of the boys' bathrooms. Boys at the Mahanoy Area High School must sign out the toilet paper and then sign it back in because some other students were clogging the toilets. Parents are pissed.
Activists Gear Up Against Philadelphia School Closings– Today, activists, clergy, and elected officials will present an analysis of the Philadelphia School District's plan that shows the closings would disproportionately affect students of color, as well as poor and disabled students. And they will announce that the district is now the subject of a federal civil rights investigation into the racial patterns of its 2012 closings.
#SayWhat News (weird, outrageous, surprising and crazy news) goes down at 6:55a, 7:55a and 8:55a everyday with @MinaSayWhat on @Power99Philly.
LEAVE A COMMENT
comments