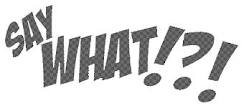 Man Killed By Refrigerator While He Was Grabbing A Beer – A Los Angeles man in his 60's was crushed by his refrigerator as he tried to get a beer. Reports say that the appliance collapsed onto the man because it was in his garage and not held up and/or braced by any cabinets.
UK Man Loses 644 Pounds Through Gastric Bypass – Paul Mason once held the title 'fattest man alive' weighing in at a whopping 980 pounds. At his heaviest he needed two caretakers to help him perform basic activities. But thanks to gastric bypass surgery he has shed an amazing 644 pounds! His next issue is dealing with the over 100 pounds of excess skin that are holding him back.
Woman Spends Christmas in Jail for Cursing – LaRue Ford of Michigan found out the hard way that cursing can be a crime. She was in court to settle an old traffic ticket and was cursing as she paid her $50 fine. The judge felt disrespected, found her in contempt of court and ordered her to 11 days in jail without bond.
Read more #SayWhat News by clicking below for more.
Philadelphia's Schools Superintendent Lays Out A Plan -William R. Hite Jr. has come up with a 25 page plan that outlines the future of the Philadelphia school district. His plans are split into two separate sections: academics and finances. He has six strategies under each section. They are to stabilize the district's finances, improve student high school and college graduation rates, build a system of excellent schools that include 'virtual schools', recruit and keep top talent, become more 'family centered' and to be more accountable. Hite acknowledges that there is much to be worked out and that the plan is ambitious considering the projected $1 billion deficit.
Top Dem Says Christie 'Prayed' For Sandy — Then Quickly Apologizes – Democratic Senate President Stephen Sweeny said, "We gave the governor a jobs package. We gave him one. He vetoed it. And his job package is a hurricane. I guess he prayed a lot and got lucky a storm came. I shouldn't say that…I apologize for saying it" Sweeny said this after Christie said the economy would be stimulated by the Sandy reconstruction efforts. Christie was not happy by the comments and quickly responded by saying, ""It was shocking to hear Senator Sweeney reduce Hurricane Sandy and its devastation to a heartless partisan attack. Ask the thousands of New Jerseyans whose homes or businesses were destroyed or damaged if they view Hurricane Sandy as a partisan political issue, or if this is what they want to hear from their leaders at this time of recovery as we fight for disaster aid in Washington. No one 'prayed' for what New Jersey has endured. This is politics at its worst and Senator Sweeney's next press release should be to all residents of New Jersey saying he is ashamed of what he said today." Sweeny later said that Christie 'exploited' his misstatement.
Cherry Hill Brawl Caught On Video – At around 8PM on Saturday as many as 20 teens were involved in a brawl that is believed to have started over someone's girlfriend. One individual was taken to the hospital and later released. Police hope the video will help to identify the assailants.
Ex-detective Gets Four Years For Steroids Ring In PA – Keith Gidelson was a former cop who had to hang up his badge after a bad car accident in 2006 ended his career. To make extra money he started pushing steroids or serving as a "drug dealer" as the judge saw it. He was sentenced to 4 years in prison, a $25,000 fine and 3 years of supervised probation upon his release.
5-Year-Old's Dog Shot And Killed In Chester – 5 years old Shirley Sims said, "I miss Clara a lot" when asked how she was doing after her St. Bernard was shot and killed. Authorities say that someone passed the Sims' back yard, unchained the dog and shot it several times in the head. Neighbors reported seeing 2 people running away from the seen. The little girl is heartbroken.
#SayWhat News (weird, outrageous, surprising and crazy news) goes down at 6:55a, 7:55a and 8:55a everyday with @MinaSayWhat on @Power99Philly.
LEAVE A COMMENT
comments