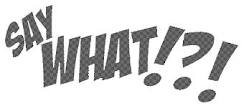 No Response To Burglary In Chi-Town – Chicago police have changed their response procedures for 911 calls. If you are not in immediate danger and the suspect is no longer at the scene authorities will not come immediately. Calls for things like criminal damage to property, vehicle thefts, garage burglaries will be taking the back burner to free up about 44 officers a day for patrol duty. This decision had been made because of the city's financial struggles. Chicagoans are definitely not happy about the changes.
Wisconsin Woman Evicted For Keeping Rats – Darlene Flatoff, a 58 year old woman from Wisconsin, has been evicted from her home because of her hoarding of rats. Authorities found more than 300 rats living in her trailer with her. In addition to living with the rats and failing to properly dispose of their waste, Flatoff has been seen kissing the rodents. Health officials believe the infestation started because the first couple of rats she bought from a pet store got couldn't get enough of each other. Her trailer has been declared a public health hazard and authorities say they have no choice but to destroy the building. Flatoff said, "They don't have diseases. They're sweet little babies."
Internet Sensation Sweet Brown Scores Commercial – Everyone loves Sweet Brown and now they might be able to catch her on TV. The 'aint nobody got time for that' star has landed a commercial with Shortline dental. In the commercial she complains about a tooth ache saying, "Lord Jesus, its a tooth ache! Ain't nobody got time for that!" The spot will air locally in Tulsa, Oklahoma. Watch it below. Sources also say she will be in an upcoming Tyler Perry movie.
Read more #SayWhat News below.
6 Pitts Found Dead In South Philly – The remains of six male pitt bulls were found stuffed in trash bags near railroad tracks by workers conducting a routine inspection. The dogs were believed to have been dead for about 24 hours before they were found. The cause of death is not yet known but the Philadelphia SPCA is offering $2000 for information leading to the arrest of the individual(s) involved. If you have information call the SPCA's Anti-Cruelty line at 866-601-SPCA.
NJ Girl Could Be Charged Over Racist Tweet – A sophomore from Glassboro High School could be charged with harassment for a racist tweet she sent from her algebra class. The student took a photo of two black students and accompanied the pic with the tweet, "Stupid n***s in my algebra class". The tweet was reviewed by a guidance counselor before detectives were alerted. The school isn't going to take any action until the investigation is complete.
Police Question 3 In Girl Abduction And Find Talking Bird – Three people at a home on Walton Ave were questioned on Friday in relation to the kidnapping of the kindergartener who was taking from her classroom almost a month ago. One of those questioned was a 19 year old who works with the school's after-school program. All of those questioned denied having any involvement. In the same home where the questioning took placed, a talking bird was found and taken for the investigation. The little girl remembered a talking bird when she was interviewed by police but the bird has since been returned. The reward for information leading to an arrest is now at $105,000.
Penn State Reacts To Paterno Report – Penn State, students and the Paterno family are all responding to the newest reports surrounding the child abuse accusations. Students are tired of seeing their school in the headlines and are worried about their reputation being tarnished. Sue Paterno will be doing in interview with Katie Couric in an attempt to clear her husbands name. University officials have released a statement saying that "The goal of this investigation was to uncover facts and identify where failures occurred..and to make recommendations to help ensure that such failures never happen again. Recommendations the university hopes to have fully in place this year."
#SayWhat News (weird, outrageous, surprising and crazy news) goes down at 6:55a, 7:55a and 8:55a everyday with @MinaSayWhat on @Power99Philly.
LEAVE A COMMENT
comments