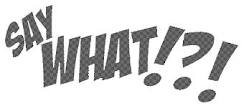 Prison Guard Gets Preggo By Inmate – 29 year old Nancy Gonzalez has been arrested because of her sexual affair with inmate Ronell Wilson that left her pregnant. Wilson was serving his sentence on death row after he was convicted of murdering two undercover police officers. Other inmates report seeing Gonzalez going in and out of Wilson's cell and meeting with him in vacant rooms when everyone was asleep starting last March. Gonzalez said, "I took a chance because I was so vulnerable and wanted to be loved and now I am carrying his child". She has been released on $150,000 bond.
RIP Stewie, The World's Longest Cat – Stewie measured in at over 4 feet long from the tip of his nose to the tip of his tail- holding the Guinness World Record! Unfortunately the Stewie, whose full name is Mymains Stewart Gilligan, lost his battle to cancer at the age of eight.
9-Year-Old has Given Birth To Baby Girl – A 9 year old in Mexico has given birth and authorities are now looking for the 17 year old boy who they believe is the father. The girl and her baby are doing just fine but the father, when found, faces child sex abuse charges. The girl told police that the teenager was her boyfriend.
Barney Creator's Son Charged With Attempted Murder – Patrick Leach who is the son of Barney-creator Sheryl Leach has been charged with attempted murder and assault with a semi-automatic firearm in a case involving a 49 year old man in California. Leach pleaded not guilty to the charges that connected him to the January shooting of his neighbor- Eric Shanks- in a Malibu driveway after a trespassing dispute. Leach is currently out on $1 million bail and is scheduled to appear in court next month.
Read more #SayWhat News by clicking below for more.
Alleged Rapist Blames 'Out of Control' Hormones– 20 year old David Martinez of Bethlehem, PA is being accused of raping two teenage girls who he claims he met on Facebook and then lured to his house. To defend himself he says that his hormones are out of control and that he's addicted to sex. The victims were 17 and 14 year old when the assaults took place. He said that he felt bad for what he had done but he couldn't control himself. With Martinez's admissions investigators believe there may be other victims. He is being held on $200,000 bail.
Eyeball Falls Out In Court – Matthew Brunelli and John Huttick were involved in a fight outside of New Princeton Tavern in Burholm when a punch led to Huttick losing his left eye. As Huttick sat on the witness stand in court to retell his story his $3,000 prosthetic eyeball fell out! Jurors were shocked! Huttick luckily caught the eye. The judge declared a mistrial and rescheduled the hearing.
Teacher Indicted On 92 Child Sex, Porn Charges – Pine Hill Middle School art teacher Charles Reilly has been indicted on charges he had that involved sexual interactions with 17 of his male students. The 44 year old is facing 92 counts related to child abuse. The victims ranged in age from 12 to 16. Reilly is also accused of interacting with underage males via the internet and being in possession of child pornography.
#SayWhat News (weird, outrageous, surprising and crazy news) goes down at 6:55a, 7:55a and 8:55a everyday with @MinaSayWhat on @Power99Philly.
LEAVE A COMMENT
comments