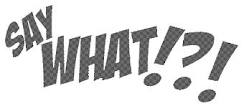 Mother Arrested For Buying Strippers For Son – Most 16 year old teenager wish for  car for their birthday but a New York mom took a different approach to birthday presents this year. 33 year old Judy Viger, of New York, was arrested earlier this week for getting strippers for her 16 year old son's surprise birthday party. She was charged with 5 counts of endangering the welfare of a child. The women came to the bowling alley party to dance with and on the unsuspecting party goers. Some of the attendees are expected to be as young as 13. Wonder what she'll do for his big 2-1!
13th Amendment Officially Ratified In Mississippi – Mississippi has officially ratified the 13th amendment that was adopted by the US in 1865 to abolish slavery. At the time when the US adopted the changes, Mississippi along with several other states opposed the ratifications but made the official vote to change the amendment in 1995. The problem arose because the state did not officially notify the U.S. archivist in 1995- which is necessary for the changes to be acknowledged. The Mississippi Secretary of State has finally submitted the necessary paperwork and the changed amendment is now recognized by the Federal Register.
Angry Wife Pours Boiling Water On Cheating Husbands Penis – Columbian woman Yolivel Lopez, obviously feels like 'Aint nobody got time for that' when it comes to her unfaithful husband. It has been reported that after she found out her husband Nefer Netan had been cheating on her she dumped boiling hot water onto his genitals while we was sleeping! Her husband's mistress called to inform her that the two had just had sex. Neighbors said they heard Netan's screams and doctors say that his penis is 'destroyed.' Lopez has not been seen since the incident.
Read more #SayWhat News by clicking below for more.
St. Joseph's Prep To Begin Random Drug Testing – Starting next month St. Joseph's Prep High School will start conducting drug tests on 10 random students twice a month. Students and parents were informed of the upcoming changes about 90 days ago. A senior at the school said, "The drug testing, I don't mind it because I personally don't use any of that, but I do think it is an invasion of our privacy." Another student said, "I would say most students are not with it; I would say a small minority would be for the testing." Principal  Jason Zazyczny says that he hopes the new procedures will help to mold the students and encourage them to make better decisions. Students who fail the test will have to go to counseling and take more tests- that their parents will have to pay for. Failing 2 tests could lead to expulsion from the school.
Parx Casino Thief Steals $55,000 In Chips – Pennsylvania State Police are looking for an individual who got away with $55,000 worth of casino chips! Investigators say that the male suspect was playing at a table when he grabbed the chips and ran from the establishment. There are no specific details yet about the identity of the suspect but the entire events as caught on surveillance cameras.
Revel Casino Filling For Bankruptcy – Atlantic City, NJ's newest casino Revel is expected to file for bankruptcy. The voluntary action will wipe away about 2/3 of the $1.5 billion debt the establishment has acquired. Revel's CEO said that this is a positive move and, "The agreement we have reached with our lenders will ensure that the hundreds of thousands of guests who visit Revel every year will continue to enjoy a signature Revel experience in our world-class facility." When the casino opened a year ago the goal was for it to rejuvenate Atlantic City's economy. Revel has had to overcome many obstacles including a recession, deaths of project managers and workers and major financiers pulling out. Revel is expected to file the Chapter 11 bankruptcy next month.
Philly School District Saves Some Schools, Cuts Others – The Philadelphia School district has managed to save some schools that were expected to be closed down as a result of their new plan for the city. 10 schools that were supposed to be cut will remain open but unfortunately another 29 were targeted to be closed down. The school superintendent said that the concerns and protests from thousands of people helped to make the new decisions. The school reform commission still has to approve the new list of school closings, however.
#SayWhat News (weird, outrageous, surprising and crazy news) goes down at 6:55a, 7:55a and 8:55a everyday with @MinaSayWhat on @Power99Philly.
LEAVE A COMMENT
comments