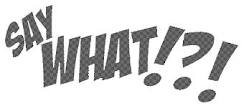 Woman Sues Strip Club After Losing Thumb – A 35 year old woman from Philadelphia is suing a strip club for $50,000 who says that she lost her thumb during a freak accident. Sarah Berry was practicing for a G-string competition on a metal bar suspended from the ceiling when a sharp edge severed her thumb. When she fell to the ground  her thumb was effectively amputated. Berry is suing for pain and suffering, disfigurement, humiliation and embarrassment. because the strip club failed to make sure the apparatus was properly built.
Drug Dealing Granny Will Miss Surgery – A 79 year old Grandmother was doing more than just baking chocolate chip cookies in her Atlanta home! Police found more than 9 pounds of weed and $130,000 in her house. Norma Cheren is being held on $25,000 bond and may miss her vital hip surgery that she has scheduled. Grandma was discovered because one of her clients was found with an ounce of marijuana on her and she gave Cheren up to authorities.
Valentine's Day Gift Stuffed With Meth – Lawrence Ligocki of Massachusetts allegedly received a valentines day package that had way more than your usual chocolates and teddy bear. Authorities were tipped off by postal officials who reported the suspicious package and a drug-sniffing dog confirmed the presence of drugs. A teddy bear was stuffed with three bags of crystal meth worth about $10,000. When police searched the 62 year old's house they found another jar of meth. He was charged with drug possession and trafficking and was freed on $150 bail.
Booker Enraged Over Stripping Whipping Attack Video – Cory Booker has publicly spoken out about a video that went viral last week. In the footage 3 men forced another man to strip naked outside before dowsing him in water and whipping him with a belt. Booker was especially upset with people who knew about the attack and didn't say anything. He said, "In the face of evil, those who remain quiet are participants in that evil. We're better than this". the suspects are all from Newark and have been charged with armed robbery and aggravated assault. Police say that the victim's father owed $20 to the suspects who were all had gang affiliations. The men all face 10-20 years in prison if convicted of the armed robbery charges and 2-10 years for the aggravated assault.
Watch the video and read more #SayWhat News by clicking below for more.
Advisory: The below video is graphic in its depiction of violence. A naked young man was whipped because of his father's debt.

Frito Lay Has 3 Flavor Finalists – Frito Lays has had a huge campaign for consumers to develop new chip-flavor ideas! Well this week 3 of the flavor finalists hit stores! They are: cheesy garlic bread, chicken and waffles and Sriracha. More than 3 million entries were submitted to the website and consumers will choose the winner. You have until May 4 to vote for your favorite flavor and decide which will be officially added to the line-up!
12 Year Old Steal Car From Rental Company – 12 year old boy in Upper Darby broke into an Enterprise rental car lot on Friday and stole a 2011 Mazda. He returned two days later and tried to take another vehicle! Workers at the lot knew something was wrong when they opened up on Saturday and found the car and keys missing. When the boy  was trying to break in again the next day he was caught by a manager. He is being charged with burglary, theft and related offenses. He was released to his mother but jail time may be a better sentence than what he's got waiting at home! Yikes!
Student Sues For 1 Million Because Of Grade – A grad student from PA is suing for $1.3 million because of a C+ she received for an internship class. She said the grade kept her from getting the degree she wanted and becoming a licensed therapist. She is suing her professor at Lehigh University and wants the grade to be changed. The student believes she is being targeted because she is an outspoken advocate for gay marriage, which her professor does not agree with. She believes that the C+ is work the money because that is the value of the masters degree in psychology that she says she was unable to pursuit.
LEAVE A COMMENT
comments