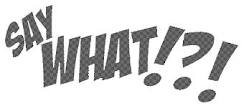 Woman With Sexual Condition Has 50 Orgasms A Day – A woman from Florida says that she has more than 50 orgasms a day and that her life is torture. She's been dealing with the relentless orgasms for 14 years now. The 22 year old has a rare condition called Persistent Sexual Arousal Syndrome that allows for orgasms to be triggered by things like loud music or car rides. She says that she masturbates up to 15 times a day to keep her arousal under control. She says that her orgasms control her life and make fit miserable.
Man Swallows Cousin's Ear Lobe During Fight – Emilio Mendoza of Connecticut has been charged with first degree assault after her bit off his cousin, Ruiz's, ear lobe during a fight and ended up swallowing it. The fight allegedly started over loud music. The cousin asked Mendoza to turn down his music but instead he started punching him in the head. When officers arrived Ruiz was bleeding, missing a part of his ear, had a broken nose and a fractured eye socket. Mendoza is being held on $100,000 bail.
NYC Valentine's Day Sewage Tour Back By 'Demand' – Couples who get turned on by sewage have the perfect date opportunity for Valentine's Day this year. The Department of Environmental Protection is offering tours of the Newtown Creek sewage treatment plant in Brooklyn because of high demand. One of the highlights of the tour is the digesters that break down noxious waste.
Read more #SayWhat News by clicking below for more.
2 Year Old's Body Found Decomposing in Funeral Home – The mother of a 2 year old was already distraught at the fact that her baby was allegedly killed by her ex-boyfriend but now she has learned that her precious 2 year old's body was left to rot in the basement of a funeral home. Ranasia Knight was one of four bodies found badly decomposed at the Gundel Funeral Home in Lancaster, PA after the people in charge had assured the families that the bodies would be cremated. Knight died in an ER back in January after she was believed to have fallen down a set of stairs. The director had been paid $400 to perform the procedure and deliver the ashes to the victim's mother.
New Report Says There's More Jobs But Blacks Are Not Benefiting – A report conducted by the University Of Cali's Center For Labor Research and Education found that 2012 did see slow, steady growth in payroll employment. Unfortunately, these gains were not distributed evenly across all communities in our nation. The labor policy specialist that wrote the report said that the "The ratio of Black unemployment rate to white unemployment rate actually rose slightly last year from 1.9-to-1 to 2.0-to-1."
Activist Wears KKK Outfit On Philly Street – An African American man stood on the corner of 13th and Filbert today in a KKK hood. He was not out to hurt black people but was using the offensive symbol as a way to emphasize the high rate of black on black crime. He said, "We're bringing awareness to the black hypocrisy, complacency and apathy in the African American community."
#SayWhat News (weird, outrageous, surprising and crazy news) goes down at 6:55a, 7:55a and 8:55a everyday with @MinaSayWhat on @Power99Philly.
LEAVE A COMMENT
comments