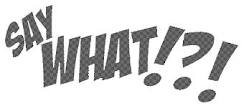 Woman Spends 50k On Butt Injections – A 30 year old woman says she became addicted to illegal silicone shots that made her butt and hips bigger. She was on the TLC show "My Strange Addiction." The injections were not performed by a plastic surgeon. Instead she gets them on the black market from a woman she often meets in a hotel, spending thousands of dollars on filling her body with unknown liquids.
Stolen Krispy Creme Truck Turns Into High Speed Chase – A man jumped into a Krispy Creme truck as its driver was unloading a delivery and sped off with a truck-full of the glazed heart attacks! He led police on a 15 mile chase through Georgia highways reaching speeds of up to 70 miles per hour! The chase ended when Major drove the truck into a dead end in a neighborhood and attempted to flee on foot. Really?? Over Krispy Cremes
Man Drives Car With A Big Object In His Mouth – Police in Michigan received a call reporting a man sitting in a car at a park sucking on a dildo. When officers arrived the man was driving away with his dildo right by his side. When questioned about what he was doing the offender said, "I'm sucking on a dildo, I'm sorry."
Read more #SayWhat News by clicking below for more.
4 Ppl Questioned In Abduction Case – Yesterday police have questioned four individuals who live on Watlton Ave. in Philly in regards to the abduction case of the kindergarten girl from her classroom about a month ago. It was 2 men and 2 women.  1 of the women were actually charged and she's believe to be the woman seen in the evidence video wearing the garb and taking the girl out of school. The woman chargedis  19 years old and was charged kidnapping, criminal conspiracy, rape, aggravated assault, involuntary deviant sexual intercourse, unlawful restraint, contact with a minor, false imprisonment, interference with the custody of a child, indecent assault, concealing the whereabouts of a child, simple assault, corruption of minors, and recklessly endangering another person. That's 14 crimes in all and 11 of which are felonies. The woman works at the after school program the little girl attended. Sources say that DNA from something in the home where the woman was staying matched the DNA found on the t-shirt of the little girl. A search warrant was obtained for the home after the girl's recognized the back of the house and a bird.
Burned Remains ID As The Cop Killer – Authorities are saying that the burned remains that were found in a cabin in California have been positively identified as the cop killer Christopher Dorner. Dorner first started his rampage about a week ago when he wanted revenge on the LAPD after he was fired. Dorner's dental records made the match between the remains and his identity. His family says they knew nothing about what he was plotting.
1st Grader Creates App – Zora Ball is a first grader at a Science and Technology Charter School and is the youngest person to have created a mobil game app! Zora created the mobile app while taking part in an initiative by the Foundation for the Advancement of Technology and Education (FATE). Students build the games using algebra, geometry and a program called 'Bootstrap.' Ball unveiled her game last month at the University of Pennsylvania. Her teachers expect to see many more great things from her!
#SayWhat News (weird, outrageous, surprising and crazy news) goes down at 6:55a, 7:55a and 8:55a everyday with @MinaSayWhat on @Power99Philly.
LEAVE A COMMENT
comments