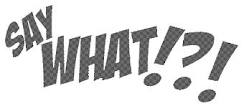 School Bans Cursing…But Only For Girls! – New Jersey's Queen of Peace High School has asked its girl students to take a pledge against cursing but it didn't ask the boys. The boys were simply asked to not curse in front of ladies. School officials said it is trying to teach the girl students to act like ladies and hope that their behavior will inspire the boys. One male student said that girls with 'potty mouths' are unattractive but he feels like he can't control his mouth. The school is really some heat for what people are calling a sexist rule.
Mom French Kisses Son To Give Him Drugs – People will do anything to get a fix! 54 year old Kimberly Margeson is accused of passing Oxycodone pain killers to her 30 year old son through an open-mouthed tongue kiss during a prison visit. Margeson pleaded not guilty to a felony drug charge and promoting prison contraband. Yuck!
Animal-Semen Attacks On Teen Girls – A man in is terrorizing the UK because he insists on approaching teen girls and smearing animal semen on them! The man allegedly goes up to people and asks them for the time before putting the 'sticky white substance'. There have been no leads in capturing the suspect.
More #SayWhat News by clicking below for more.
After 1st Date Man Steals X-Box From Neighbor – Florida never fails to bring us the ratchetry. An online lover left a little boy scared for his life after he was held at gunpoint! 12 year old Juan Morales says that he was playing video games when his neighbor's first date, Jean Remy, broke into his house put a gun to his head and stole his X Box. Remy was later caught and is now in jail.
1st Lady Will Attend Funeral Of Teen Gunned Down – 15 year old Hadiya Pendleton was killed just days after she performed at the inaugural activities just a mile from her Chicago home and Michelle Obama will be in attendance at her funeral. The White House has confirmed her visit and Senior Adviser Valerie Jarrett and Education Secretary Arne Duncan will also attend.
Woman Arrested For Sex With Son's Teen Friend – 35 year old Kathryn Carmean from Maryland has been arrested for the alleged rape of a 14 year old boy in Delaware. The teenager told a family member that he was involved in a sexual relationship with the woman. The boy was a friend of Carmean's son who would spend the night at their house on occasion. he is charged with 10 counts of third degree rape, continuous sexual abuse of a child and endangering the welfare of a child and is being held on $57,000 bond.
Gun Found In 7-Year-Old's Bookbag At W. Philly School – A 7 year old Universal Daroff Charter School student was packing more than notebooks and pencils in his back pack yesterday. The boy arrived around school at 8AM with a loaded gun in his book bag. He didn't know that the weapon was there and discovered it as he was putting his jacket in his bag on his way to an after school program. The boy immediately told his teacher who told her supervisor who notified police. According to investigators the gun was rusted shut but it did have 5 bullets in it. No one has been charged as of yet.
#SayWhat News (weird, outrageous, surprising and crazy news) goes down at 6:55a, 7:55a and 8:55a everyday with @MinaSayWhat on @Power99Philly.
LEAVE A COMMENT
comments