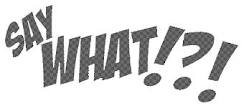 Mother Kills 9-Year-Old Son For Having Small Penis – A mother in Indonesia drowned her nine year old sun in the bath tub because she said that his small penis may have negatively effected his future. The little boy is said to have had a small penis before he was circumcised and that it got smaller after the procedure. She drowned him in the tub and then dressed him and laid him in bed before going to the police to report her crime.
Racist Graffiti Reported In Maple Shade – A Burlington County home was the site of racist vandalism Wednesday night. The Rankines went to church on Wednesday night and when they got home the letters 'KKK' were written in white chalk on the brick front of their house. The letters were a foot long and could be seen from the street. The Rankines said that they live in a 'good town' and they're not sure who would want to do this to their family. Police are investigating.
Alleged Druggie Taunts Cops Online: 'U Cant Catch Me' – 21 year old Mark Gross is an alleged drug dealer from Montgomery County. After the district attorney asked for the public's help to find him he posted online a sloppy rendition of the ginger bread man rhyme saying: "im not turnin my self … run run as fast as u can u cant catch me im da ginger bread man……sincierly da gingerbread man." He was caught in a parking lot on Monday and charged with flight to avoid apprehension, possession of a controlled substance, and possession of drug paraphernalia.
More more #SayWhat News Click below for more.
Man Hit By Car After Allegedly Biting Off Girlfriend's Brother's Finger – A man in Albuquerque was running from his girlfriend and her brother when he got hit by a car! 23 year old Leandro Sage was accused of hitting his girlfriend and when her brother came to defend her Leandro bit off the end of his finger. He was treated for the injuries he sustained after getting hit and was then arrested.
"Daddy's Money" Sketchers Making Moms Mad – A new product targeting 'tweens' has moms in an uproar. The wedged sneakers are called 'Daddy's Money' and the slogan is "Get spoiled with Daddy's money, ultra cool shoes that will put you in the spotlight with a dose of swag and a 2-inch hidden wedge".  The foot wear cost $65 a pair and mom's say that they reinforce the negative stereotype that girls can manipulate their fathers. They argue that this is not how we should be teaching girls to get what they want. They're also worried about the health factors arguing that the wedged shoes will pressure girls to become skinner and sexier before their time.
McDonald's Throws Kids Out For Ordering Too Much Fries – Kids in South Korea took advantage of a sale on French fries in a big way. The kids ordered $250 worth of fries and took over several tables in the restaurant with fries covering every inch of them! Other customers in the restaurant were upset because their orders were delayed. The kids were eventually kicked out. 'Potato parties' are apparently a growing trend in Asia.
#SayWhat News (weird, outrageous, surprising and crazy news) goes down  at 6:55a, 7:55a and 8:55a everyday with @MinaSayWhat on @Power99Philly.
LEAVE A COMMENT
comments