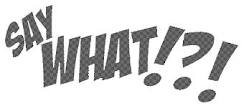 Fresh Prince Song Causes School Lockdown – Last week an eye doctor receptionist called a 19 year old student to remind him about his appointment. The call went to voicemail where she heard the boys imitation of Will Smith's theme song for The Fresh Prince Of Bel Air. The receptionist misheard the lyric "and all shooting some b ball outside of the school." She called the cops because she heard shooting and school. All Beaver county schools were put on lockdown for 20 minutes as they searched for the boy. They found him with his school guidance counselor. 
Pregnant Woman Allegedly Fired For Premarital Sex, Sues Christian School – 29 year old Teri James is suing a Christian college after she was fired for having premarital sex. James admits that she did sign a contract with the school saying that she would participate in "sexually immoral behavior including premarital sex" but she never thought it would lead to her termination. When it was discovered that she was pregnant she was fired but to make the situation worse the school offered her former job to her fiancé. The trial is set to begin on March 19th.
"Keep Calm And Rape" T-Shirts Cause Riot – Amazon UK and a manufacturer called Solid Gold Bomb caused crazy controversy after they started offering a line of t-shirts that promoted domestic violence. The shirts said "Keep Calm And Rape" and "Hit Her". Twitter users got wind of the shirts and out of outrage started trending topics like #NotBuyingIt. Ultimately Amazon UK and Solid Gold Bomb removed the t-shirts from their websites.
Women Getting Fat Because Of No Housework – A new study is claiming that women are becoming more and more over weight because they are not doing as much housework as they once did. The researchers said that in the 1960s women did close to 25.7 hours a week of house work but that today that number is closer to 13.3 hours. They say that housework is a good source of physical activity and that increasing it could increase women's health.
Doctors Say HIV Infected Girl 'Cured' – A baby girl born with HIV has been cured after very early treatments with standard drug therapy. The child, who is from Mississippi, is now two-and-a-half years old and has been off HIV drugs for about a year with no signs of infection. More testing needs to be done to see if the treatment would have the same effect on other children. But this case could change the way high-risk babies are treated and possibly lead to a cure for children with HIV, which causes Aids.
Facebook Launching New Look For News Feed – This Thursday be prepared for the changes. Techies are already predicting what the changes will be. Some are speculating that there will be a new mobile News Feed that will filter news into different categories like music, news, gaming, and video categories.
Teen Eats Deodorant – A 19 year old was featured on TLC's show 'My Strange Addiction' for her obsession with eating deodorant. The girl says that she eats close to half a stick a day or 15 sticks a month. She started the strange habit about two years ago and says that her life revolves around eating it. She says that she likes the soft feeling and how it melts in her mouth. Her doctor ran tests and said that he is worried about her brain function- the aluminum in the spray deodorant that she consumes could be causing memory loss.
Delaware Taxpayers Getting Two Tax Refund Checks – 1,860 tax payers in Delaware will get 2 tax refund checks this year! The director of the division of revenue says that an employee accidentally printed duplicates of the checks while they were being processed. Check cashing services have been alerted to avoid the copies from being cashed. Officials say that individuals who do receive two checks can cash the first one and destroy the second one. Letters will be mailed out soon explaining the situation.
#SayWhat News (weird, outrageous, surprising and crazy news) goes down  at 6:55a, 7:55a and 8:55a everyday with @MinaSayWhat on @Power99Philly.
LEAVE A COMMENT
comments