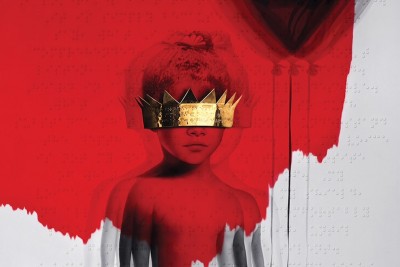 Although Rihanna's "ANTI" has been certified platinum by the RIAA, first weeks sales numbers from Nielsen were not so good. Nielsen confirmed that they would not be including downloads and streams of ANTI from Tidal or Samsung in their count because they do not count free promotions in their tallies. Samsung bought 1 million copies of  the album and gave it away for free. Meanwhile, Tidal sold 484,833 downloads of the album in addition to the free copies given away via the Samsung promotion.  Those numbers aside, ANTI is said to have sold just 460 copies of the whole album in the United States and opened at #27 on the Billboard chart. The album also had 4.2 million streams and 126,000 sales of individual tracks, according to data from Nielsen.
So here is what happened. The album charting week is Friday to Friday. Rihanna's album was leaked prematurely and appeared on Tidal before it should have.  The blame has been put on a technical issue and also Rihanna's label Universal. A spokesman for Tidal, Dan Roberti, said that the album was put on sale late Thursday, after Samsung's exclusive giveaway period ended, giving the album just a few hours to rack up sales for the week. In addition to that Tidal subscribers come from all over the world. Neilsen tracks domestic releases. Also adding to that is the fact that physical copies are not available yet.
Despite these numbers, the album still reached number one on the I-Tunes internal charts with its hundreds of thousands of streams and individual song purchases.
LEAVE A COMMENT
comments