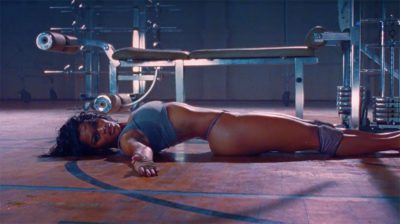 Teyana Taylor just had a baby and she looks amazing! She's featured in Kanye's video for "Fade" and the internet lost it's mind after watching the premiere of the video during Sunday's MTV VMAs. In the video she's in a thong and bra dancing throughout the whole video and her body looks so amazing and her dancing is even fiercer! She's featured at the end of the video as a lion/cat next to her hubby Iman Shumbert and their 8 mouth old baby. Oddly enough they are next to sheep. Even with that strange scene at the end the video is excellent. Simple yet classic. Reminded everyone of Flashdance.
In lieu of all this attention, Teyana sat down with Vogue to discuss how the Fade video came to be. She explained that she was in the studio recording one day when Kanye was next door. He came in and they started talking about her relationship and what is going on in her life. Kanye told Teyana he loved her portrayal of Lil Kim during VH1's tribute to her and other women in hip hop.  When they ended their conversation Kanye left and shortly after a GOOD Music rep told her that Ye wanted her to dance in his video.
In the Vogue article, Teyana admits that she did not know what to expect but that he trusted Kanye's vision. He sent her the song and she choreographed most of the routine. She did confirm that some of the moves towards the end of the video were originally for Beyonce and she did work on that with someone else.  She said Beyonce could not perform the choreography because she was pregnant. Taylor said that there is meaning behind the cat/sheep scene but she wants people to watch it over and over so that they can figure it out for themselves. Most interestingly- neither Teyana nor Iman saw the full video before it debuted at the VMAs. She said they actually record the sheep part first and talked about Iman being supportive just their shower scene. She also called him her husband. Revealing the fact that they got married!
As for her excellent shape. She said she eats pretty bad and that she just does a lot of dancing.  She does go to the gym, 3-4 times a week, but she dances everyday. Read the full article HERE.
LEAVE A COMMENT
comments