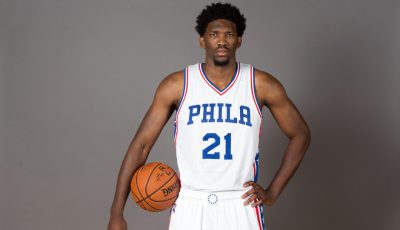 Despite all of the campaigning on twitter and sending people his fav drink – a Shirley temple – Joel Embiid was not voted into the 2017 NBA All Star Game. Embiid came in third in the frontcourt player vote among fans but didn't fare as well in the player and media vote. The Eastern Conference coaches selected Kyle Lowry, John Wall, Paul George, Paul Millsap, Kevin Love, Kemba Walker, and Isaiah Thomas for the reserves. Embiid said he wanted to play in the All-Star Game so he could go on a date with Rihanna yesterday.
In response to the snub, Embiid tweeted
"Well I guess the date is not gonna happen ha…. And that dude on tv clearly hates me for no reason lmao #BigGoof #TrustTheProcess"
and
"Once again the popular vote didn't matter……"
Embiid shows he's politically conscious by comparing this to Hilary Clinton getting more popular votes than Donald Trump, but not winning!
 While it doesn't not look like Embiid will be dating Rihanna anytime soon, there is good news! He was voted into the Rising Stars Challenge (aka the rookie-sophomore game) so he will be in New Orleans for All Star Week!
LEAVE A COMMENT
comments