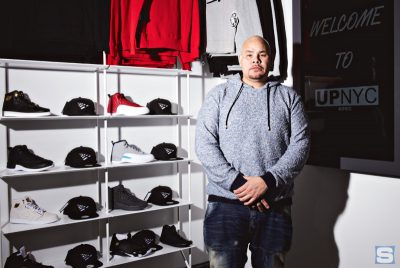 Fat Joe is being sued by his business partner and a payment processing company for his business. Four months ago he and 19 year old Scott Spina opened up a sneaker store called UP NYC. According to reports, Cayan, their payment processing company, is suing the two for a number of things including credit card fraud, breach of contract and negligent supervision.
According to Cayan, 30 separate, unauthorized charges were processed at Up NYC between December, 2016, and January, 2017 and then the charges were reported to be fraudulent charges, demanding to be reimbursed. The lawsuit alleges that Spina's personal credentials were used to process all of the charges. That lawsuit is totaling $318,815.
Spina filed a lawsuit of his own saying that he's been banned from the store since November and is owed more than $400,000 that he invested in the store as well as a percentage of profits.
"Spina says that Fat Joe's close friends were hired to run the store and then disconnected its cameras, locked him out of his Nike account, and effectively pushed him out of the business. In the lawsuit, Spina says that Joe incorporated a new LLC, Up NYC, and diverted all the property from their co-founded LLC, All the Way Up, to it. Spina says Cartagena still operates both of the similarly named companies."
Sounds like Joey Crack has the wrong people running his business.
LEAVE A COMMENT
comments