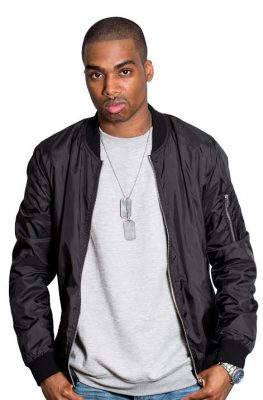 1. Who influenced you to start your music journey?
When I was starting out in music Eminem and 2pac were huge influences on me, and then shortly after I got into the industry rappers such as Royce Da 5'9, Jadakiss, Nas, Big L, and Jay Z were also major influences. To me these artists weren't just rapping for the hell of it; the overall skill involved was something they would constantly put emphasis on and that trait always stuck with me.
My ears have always gravitated more towards emcees who really took pride in taking rap seriously and being true lyricists, so the whole skillful aspect of the art form has been ingrained in me from the very beginning. I can honestly say that I wouldn't exist in Hip Hop today if it wasn't for the emcees I just mentioned.
2. What has been the most difficult part of being an independent artist?
Personally I think finding the right team has been difficult. Don't get me wrong, I have a phenomenal team now, but it wasn't an easy task and it took me a long time. See, on one hand you want to be able to trust the people that are helping you, which may lead you to enlist friends that you've known all your life. On the other hand you may have no choice but to acquire the services of people you don't know, because they have the resources that can help further your career in a way that your friends are not able to.
On top of the trust part there's the whole belief aspect. Let's be honest, how many people around a rapper in the early stages of that rapper's career really believe they are going to be a big success? Say a rapper is destined to make it 15 years to the date after they start making music; how many people are going to really stick around for 15 years of ups and downs? Few and far between. See, everyone is trying to win, from the producer to the engineer to the manager to the booking agency. I've accepted the fact that people may not be around forever, so you have to condition yourself for when those people decide to leave your side.
3. Tell us a little about yourself and where you come from.
I'm a rapper from Toronto, Canada and I've been rapping and making music pretty much my whole life. If my memory serves me correctly, I believe I started writing rhymes and freestyling when I was in high school and it's just something that I instantly fell in love with. Growing up I was never a standout in sports or anything else, but I've always had a genuine love for music, though I feel like it was the expression of rap that got me hooked to Hip Hop. The idea that I could freestyle and get a reaction out of people was a big thing for me as a teenager.
I've always thought I could make a name for myself and become successful in this business if I kept focused and stuck to it. Despite what anyone thought, no one could have convinced me that I couldn't do this as a career.
4. If you could describe your style of writing and recording, how would you?
I'm a true lyricist and a perfectionist when it comes to writing and recording my rhymes. I say this because I approach every song with that "emcee" mentality. I'm always trying to outdo myself lyrically and I'm always conscious of how I'm executing my flows. If one word is off it absolutely drives me crazy. I'm really into the craft. I got into this game to do it properly, I'm not here to half-ass it.
I mean, that's why any self-respecting emcee does what he does, right? No one who lives and breathes this art form does this to be subpar.
5. Are you currently working on a project?
Yeah, I've almost finished recording my new EP "Number 1 With A Bullet". I got inspired to work on an EP earlier this year, so I flew out to Colorado to work with my go-to producer Jon Bonus for a week in January. Now I'm just doing some last-minute recording before I send everything off to get mixed and mastered. I don't have a date yet because I want to make sure it's complete before I set an official date, but I'm confident it will be released this year.
6. Do you want to do other things besides music? If so, what?
I want to wrestle (laughs). As of right now I truly enjoy my career as a rapper. Maybe in the future I'll have an itch to try other things, but to be honest I have a one-track mind and the fact that I'm able to wake up and have the freedom to go to the studio every day is a dream come true. I wanted that for a long time so now that it's happening, I don't really think about doing anything else. I'm always open to discussing opportunities that may present themselves, but rapping is my main focus and will be for a long time to come.
7. You named some great lyricists as being influential to your career. if you could work with any one of those, who would it be?
Royce Da 5'9 is someone I would want to work with because I have a great deal of respect for him as a lyricist. I feel like he can rhyme with any great emcee and not only show up, but also stand out on the record. I know I can do that too, so collaborating with him is definitely something I would want to do.
8. With the likes of PND, Tory Lanez and of course Drake coming out of Canada, how much pressure do you put on yourself? Do you think there's a mold you need to follow?
Whether it's an artist coming out of Canada or an artist coming out of America, I don't put any kind of pressure on myself because I'm not competing with anyone but myself. Much respect to anyone in this game doing their thing, but I'm completely focused on what I'm doing. I feel like the moment you start to put pressure on yourself because of what other artists have accomplished, you've already lost and you'll never crack that glass ceiling. As far as following a mold, I don't feel like I ever need to do that because I'm confident in my abilities and my talent as an emcee. I don't need to chase a popular sound or mimic a cool flow to get people into my music. I just stay focused on what got me this far in the first place, and that's rapping and making music the way I do.
9. What is a mental or physical activity that you do to make sure you stay on task when writing?
I visualize everything. Before writing a song I visualize how I'm going to approach the record, then I visualize myself recording my vocals, I visualize the song in its final stage way before I begin writing. I'm really big on seeing everything in my head before actually executing it. I truly feel like rap is all mental, so you can't just wing it. A lot of people overlook visualization, but seeing everything in great detail before it happens is extremely important.
10. With the project you're currently working on, what's your favorite part of it so far?
Honestly, every part of creating this EP has been great. From the production side to the writing side to the recording process, it's all been an amazing experience. Even though making music is not new to me, I still enjoy getting in the studio and creating from the ground up. Rapping and making music is my passion, so I'm always going to love every aspect of it.
Follow me on Twitter  @BlueMagicGrind
Follow me on Instagram @BlueMagicGrind
LEAVE A COMMENT
comments