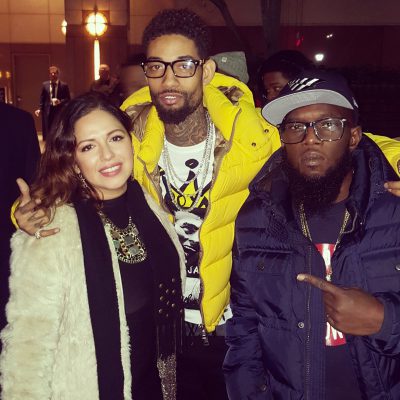 Yesterday there was a rally for Meek Mill in Philly. The 'We Stand For Justice" rally went down at 5p at the Criminal Justice Center. 1301 Filbert Street. There was lots of support for Meek Mill out there. Philly came out in the hundreds and many artists athletes came out to support. Former Sixer and NBA Legend Dr. J Julius Erving II, and Eagles Malcolm Jenkins along with Torrey Smith, Vinny Curry, Jalen Mills, and Wendell Smallwood were also at the rally to support Meek Mill.
Jenkins commented, "We cannot sit back and watch our brothers and sisters get hauled off to prison. Our leaders, our innovators and our talent is gone. And for what? For petty violations."
Artists Rick Ross, Freeway, and PNB Rock were there. Ross said
"We're here to support my brother, Meek Mill. I want y'all to understand that if it take Meek Mill to draw this attention, we're gonna use Meek Mill to draw this attention, but it's gonna speak for so many others."
Chants of Free Meek Mill could be heard throughout the rally.
There are some people who believe the effort for Meek which includes a change.org petition is not going to work, but that is incorrect. Because of the public outcry the FBI has launched a probe into the Philadelphia judge, Genece Brinkley, presiding over this case. Check out some footage from the rally below.
Freeway speaking at the #JusticeForMeek rally @RickRoss and @MalcolmJenkins up next! #FreeMeekMill @Phillyfreezer pic.twitter.com/X82gcW5AIy

— MINA SAYWHAT (@MinaSayWhat) November 14, 2017
With @Phillyfreezer at the #JusticeForMeek rally #FreeMeekMill pic.twitter.com/ikFSqb15KU

— MINA SAYWHAT (@MinaSayWhat) November 13, 2017
Artwork for the #FreeMeekMill rally #JusticeForMeek pic.twitter.com/GXQyp47GaL

— MINA SAYWHAT (@MinaSayWhat) November 13, 2017
#Philly out here supporting the #JusticeForMeek rally #FreeMeekMill @pnbrock @PhillyFreeway pic.twitter.com/3zREeMfLz6

— MINA SAYWHAT (@MinaSayWhat) November 13, 2017
The Boss came out to support @meekmill #JusticeForMeek #FreeMeekMill @RickRoss pic.twitter.com/wSdzhbjTBI

— MINA SAYWHAT (@MinaSayWhat) November 14, 2017
MJ before speaking at the #JusticeForMeek rally. He's been so vocal and a leader in the fight against injustice #FreeMeekMill @MalcolmJenkins pic.twitter.com/0jy6GygvLQ

— MINA SAYWHAT (@MinaSayWhat) November 14, 2017
@MeekMill ❗️ pic.twitter.com/GiziHMxn0I

— Jalen Mills (@greengoblin) November 13, 2017
LEAVE A COMMENT
comments