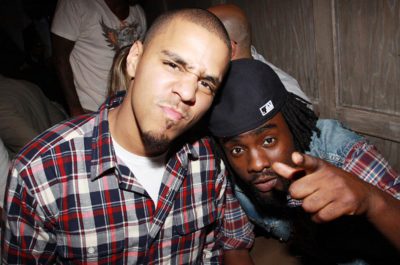 The last time we received a collaboration from Dreamville's J. Cole and MMG's Wale was a little odd. J. Cole released "False Prophets" which sounded like he was talking about Wale. In the song Cole rapped,
I got a homie, he a rapper and he wanna win bad
He want the fame, the acclaim, the respect that's been had
By all the legends, so every time I see him, he stressin'
Talkin' 'bout, n***** don't fuck with him, the shit is depressin'
And I know he so bitter he can't see his own blessings
Goddamn, n****, you too blind to see you got fans
And a platform to make a classic rap song
To change a n**** life, but you too anxious livin' life
Always worried 'bout the critics who ain't ever f***** did it
Wale didn't take too kindly to that and released "Groundhog Day" rapping,
I know since I got my deal and s*** got real
I ain't been the easiest n***** to deal with
I'm heavily flawed!
But far from a false Prophet
I'm a m******** honorable Folarin
Cassius, Muhammad, McGregor, Conor of these rap artists
Why you talking?
M**********g Groundhog's Day

The most highly underrated of my generation
Behind them crooked smiles n***** neglect to embrace me
Respect is in order now
My liquor is more to y'all
You throwing them little shots, we catching some cases
Lot of n****s hate to love me or they love to hate me
Well now it seems all is good in the rap world because Wale and J.Cole are back in the studio, together! Wale posted a video stating he is in the studio working on "new vibes" with J. Cole. The video shows J. Cole sitting in front of computer – probably working on a mix. We will anxiously and patiently wait for these two to unleash what they are working on! In the meantime let's reminisce on some of their previous collabs – scroll down.
LEAVE A COMMENT
comments