Album Updates
– Ciara announced title of her new album will be "One Woman Army" (she's actually almost finished with it)
-Lupe Fiasco's "Food and Liquor: The Great American Rap album" is set to realase Sept. 25th.
Tour Updates
-Lil Kim is set to tour with Missy Elliot and Eve.
-NAS kicks off summer with a European tour starting June 25th, then heads back to the states with a concert in Holmdel, New Jersey Aug 2nd…..bangin!
Other
– Ice T is releasing a Hip Hop Documentary in theaters June 25th called "The Art of Rap" featuring hip-hop veterans Snoop Dog, Run DMC, Ice Cube, Eminmen to name a few. The documentary gives viewers an up-close look on what happens behind the scenses in hip-hip production.
– The big story today is Nicki pulling out of Hot 97 NY's big Summer Jam last night. I was there and witnessed a couple of things.  Click below to read what i saw and see the tweets..
1. Hot 97 DJ, Rosenburg, says during pre-show that Nicki's Starship is wack bullshit and not hip hop.  He then proceeds to being out Kendrick Lamar, Schoolboy Q & A$AP Rocky onto pre-show stage.
2. Wayne hears this and tweets Young Money will not be at Hot 97
3. Car blows up in the parking lot cuz someone didn't probably extinguish burning coal from cooking out (lol )
4. Waka Flocka jumps in the crowd and walks through it for a good 20 minutes. He then jumps back on stage and says I must be in NY because I'm missing all his stuff.
5. Meek Mill is THAT dude and generated more excitement then Rick Ross (just an observation)
6. Nas pulls together a last minute throwback set with Lauryn Hill in place of Nicki.
7. Tyga performs as planned
8. J. Cole, Big Sean (and his momma) and Miguel pretty much tore it down
9. DJ Khaled never shows up
10. Nicki tweets away..  Nic was set to bring Camron,2c hainz, Nas, Lauryn Hill, Beenie Man, Foxy Brown, Lil Wayne, Birdman, Tyga, Jae Millz, Gudda Gudda..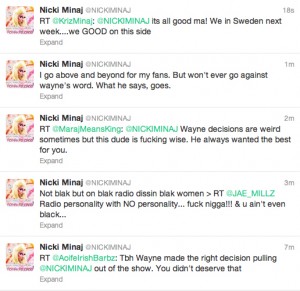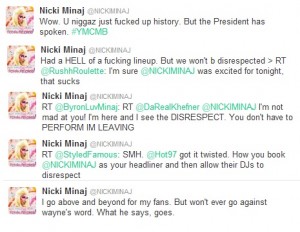 And that's all folks.. Listen for the Album/Mixtape edition of the Music Minute tomorrow at 7:50 tomorrow 🙂 @MinaSayWhat
LEAVE A COMMENT
comments