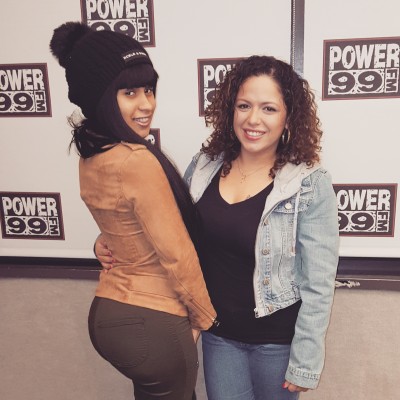 VH1 Love and Hip Hop NY's  Cardi B stopped by Power 99 to talk to Mina SayWhat and she opens up about why she started and stopped stripping, domestic issues with an ex, her ideas on marriage/prenups and more. In addition to being on reality tv, Cardi B is persuing a music career! She talks about her writing process and people not supporting her. Here are some highlights.
Cardi B Talks Stripping On The Subway…(Vid 1)
Stripping is a gamble…you don't make money everyday, so instead of paying $40 for a cab, I'd pay $2.25 to get on the 3 train, and it was a long a** ride, so I would practice my routine cause the car was empty most of the time…
On Telling Her Mom How She Became A Stripper…(Vid 1)
I had an argument with my Mom and we were like going back and forth, and that's when I told her, well cause you kicked me out when I was 19, that's why I'm a fu***n stripper!  And then when I was leaving out the house, she pushed me down the staircase…
On Why She Doesn't Troll Behind Dudes…
I had a man when I was in school, and he would get me drunk or high, and I ain't finish college because I was chasing a man.   Now that I'm older I don't have time to put my money or my life on hold for a man…like, I wanna have kids and there's a time limit.  It's not like your young, and I don't feel like I'm as young as before, so naw…I can't, I can't mess up my life for a man…
Watch below!
Check out Cardi's song HERE
LEAVE A COMMENT
comments