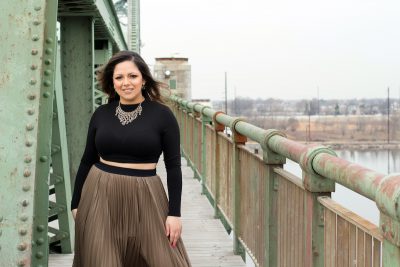 About Mina
Mina "SayWhat" Llona is an award winning Multi-Media Personality.  She is very outspoken and down to earth. She loves to learn and laugh. With over 10 years of broadcast experience ranging from television and radio to digital media, she has developed to wear many hats that include Radio Personality, TV Reporter, Podcaster, Event Host, Brand Ambassador and Public Speaker. Growing up in Union City, an impoverish neighborhood in New Jersey, Mina developed a strong love and passion for music, sports, and dance.
Mina, under the name Mina SayWhat, can be heard nationwide on SIRIUS XM The Heat M-F 6a-12p ET. She also podcasts weekly on her show called "Mina's House." You can listen on I-Tunes, Soundcloud, Google Play and The Podcast App. If  you are in the Philly, South Jersey or Delaware areas you can listen to her weekends 12p-4p on Boom 103.9 Philly. No matter what the platform, Mina regularly interviews celebrities, athletes and politicians. Some of these interviewees include: Hilary Clinton, Kanye West, Nas, Kobe Bryant, Usher, J. Cole, Malcolm Jenkins, Mark Wahlberg, Senator Cory Booker, Danny Garcia, Ice Cube, Kendrick Lamar, Allen Iverson, Kevin Hart, LL Cool J, Bernard Hopkins, Jamie Foxx, Black Thought from The Roots and 50 Cent – just to name a few. Her work is featured on her website – MinaSayWhat.com.
Mina Llona has been an On-Camera TV Contributor since 2014. Mina reported entertainment and lifestyle news on Fox 29 Philadelphia's 4a-6a morning show weekly from October 2017 to July 2018. She has also appeared on 6ABC, CBS and NBC10 in Philly as well as featured nationwide on Inside Edition, Oxygen's Sisterhood Of Hip Hop and The Rachael Ray Show. Mina is bilingual and has hosted Philadelphia's Puerto Rican Parade, which airs on 6ABC in Philadelphia, since 2015.
***************************************************************************************************************************
Mina started coming into her own while attending Emerson High School in Union City, NJ. She is the product of a single mother home, but her mother has 7 siblings, so she grew up with a big loving family. She played sports, memorized song lyrics and played video games for fun.  Mina played basketball, volleyball and softball for the schools' varsity teams. Her volleyball team even won a NJ state championship while she was on the team. Even in high school Mina was always very vocal. As the Vice President of Student Council, Mina regularly spoke in front of her peers and hosted school events. She ended up graduating Salutatorian from Emerson and received a full academic scholarship to Syracuse University (SU).
Mina's career in broadcast begun at the age of 18, while she was a freshman at Syracuse broadcasting daily on the school radio station, WJPZ 89.1 (Z89). In addition to being on-air, Mina was also the Vice President of Programming while at Z89. During that time, Mina also interned under Ebro Darden at WQHT Hot 97 in New York City and WWHT Hot 107.9 in Syracuse, NY. A proud graduate of the S.I. Newhouse School of Public Communication at SU, Mina graduated Cum Laude with two majors (Television, Radio And Film/Political Science) and a minor in Music Business. Her first official big break in radio was at the age of 21 when she was hired at SIRIUS XM Radio. There, she created their new music show, The Warm Up, and broadcasted to 22 million subscribers on Sirius XM The Heat. She was also a Program Director/Music Director for various other music channels.
Mina's tenure as a Morning Show Host begun 4 years after joining SIRIUSXM's team.  She was offered the opportunity to join Philadelphia's legendary radio station WUSL – Power 99 and she happily accepted.  She was recruited to start their new morning team that would eventually be named the Rise & Grind Morning Show (6a-10a). Joining their team at the age of 25, she became the first Latina morning show host on Power 99. The show reached #1 overall 18-34, the first time in the history of morning shows at Power 99. She was also the voice of the weather for WMIB – 103.5 The Beat in Miami from 2013 to 2017. After 6 long years of doing morning radio in Philly, Mina decided to return to SIRIUSXM in 2018. She was offered the morning position on SIRIUSXM's The Heat after just 2 months since her return.
When Mina is not on the radio, podcasting, on TV, hosting an event, at a concert or speaking at a school, you can find her giving back. She is the founder of "Mina's Dance Squad," an all-female dance team ages 15-23, where Mina serves as a coach and mentor. The team is celebrating its 6th year! She is an ambassador for the Philadelphia 76ers "Sixers Youth" basketball league. As their ambassador, Mina hosts community events on behalf of the Sixers and participates in kids training camps, charity events and various other events with the organization. Mina is also a member of Syracuse University's WJPZ Alumni Association, which she served on the board of for 1 year. Mina returns to campus 1-2 times a year to talk to students interested in media.
Having a Political Science degree, Mina has been active politically. In 2015, Mina was invited to the White House under President Obama as a youth leader to discuss healthcare solutions. She also campaigned for Barack Obama in Reading, PA for his first election in 2008. In 2016, Mina hosted a panel on music and politics for the Hilary Clinton campaign.
In addition to being a Community Ambassador, Mina has served as a Brand Ambassador for various companies including Pepsi, Aquafina, Gift Of Life Organ Donation, McDonald's, Ideal Image, Mattress Firm, Yahoo, Budweiser, Kicks USA, AT&T, Villa, BET, MTV, VH1, TNT. As an ambassador, Mina represents and promotes brands she feel passionately about.
Mina's likeness and interviews have been featured on countless sites, blogs, magazines, and TV channels. Mina covered Syracuse University's prestigious Alumni Magazine in 2008 and was highlighted in physical copies of Philly's Daily News, Philly Current, and Straight Stuntin Magazine. After winning the very prestigious, Gracie Award, Mina was mentioned in the Hollywood Reporter and E Online. Digitally, Mina has been mentioned in the Washington Post, The Philadelphia Inquirer, The Source Magazine, Philly Weekly, Hip Hip Weekly Magazine, Black Radio Exclusive and more. Her interviews and content have been posted by Complex.com, Allaccess.com, MTVNews.com, BET.com, Worldstarhiphop.com, RapRadar.com, TheSource.com, NewMusicServer.com, HipHopDX.com, Thisis50.com, GlobalGrind.com, Hotnewhiphop.com, AllHipHop.com, 2dopeboyz.com, TheBoombox.com, InFlexWeTrust.com, HipHopSince1987.com, HipHopWired.com, Vibe.com, VibeVixen.com, Rap-Up.com, ThisIsRNB.com, and many, many, many more!
Follow @MinaSayWhat on Instagram, Twitter, Facebook. MinaSayWhat1 on SnapChat! Visit Mina's other website for more of her professional TV work MinaLlona.com